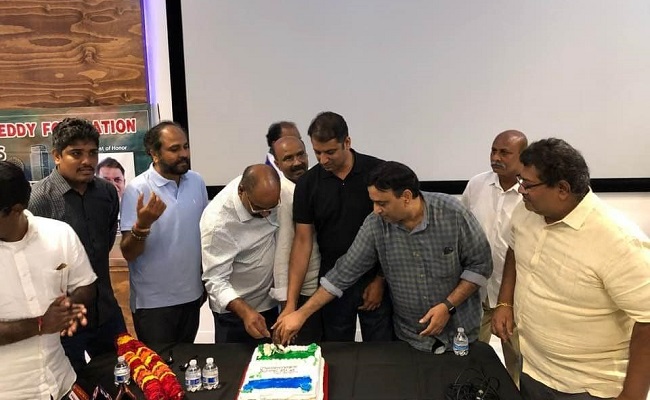 The YSR Jayanti celebrations were held in a grandeur manner in Dallas reminiscing the life and works of the greatest leader! Chief guest of the event was Kotagiri Sridhar MP from Eluru while the special guest was Ratnakar Pandugayala AP Govt representative. Over 150 attended the event.
The organizers ensured all preventive measures were in place owing to COVID-19. This event was organized by Dr YSR Foundation USA and YSRCP-Dallas and YSR Fans.
Ramana Kristapati welcomed the crowd and recalled fond memories during the golden rule of Dr. YSR. He expressed that it is a pleasure to be born during the era when Dr. YSR was alive and rendered services to the people of Andhra Pradesh.
Kotagiri Sridhar was facilitated by Obulareddy Srinivasa Reddy while Satish Bandaru facilitated Ratnakar Pandugayala. Ramana Potlur and Subba Reddy Kondu introduced the guests to the community and welcomed them to the stage.
Candles were lit and paid floral tributes by eminent community leaders Ajay Eleti, Dr. Sridhar Reddy Korsapati, Dr. Bhaskar Reddy, Ramana Putlur, Srinivasa Obulareddy, Mani Annapureddy, Subbu Reddy Kondu, Krishna Reddy Koduru, Viswanath Kichili, Raman Reddy Kristapati, Mahesh Adibhatla, Sharath Yerram, Mohd. Iqbal, Naseem Shaik, Raghu Gajjala, Jayachandra Reddy, Raghuveer Bandaru, Thirumala Kumbum, Uma Mahesh Parnapalli, Satish Bandaru Viswa Kandi, Shashi Devireddy, Madhu Mallu, Bhaskar Gandikota among others.
Kotagiri Sridhar remembered how Dr. YSR's life is a great example as a leader, a mentor and much more, which are rare to find in one person in this century. He recalled his father's association with late Dr. YSR and said there are many leaders who emerged, but no one could match the charisma of the then Chief Minister.
Ratnakar Pandugayala stated Dr. YSR was a man of the millennium who was born for the welfare of the people and Navaratnalu was the live example to it.
Ajay Eleti recalled Dr. YSR as a towering personality who dedicated his life towards all sections of people. Dr. Sridhar Reddy Korsapati lauded the services of Dr. YSR who could rise above party and regional levels in carrying out welfare activities.
Mani Annapureddy speaking to the audience reminisced a few instances which showed the magnanimity of Dr. YSR and his love and affection towards Telugu people.
Later prominent speakers from town spoke in length and breadth about the achievements Late Dr. YSR did for the state.
They mentioned the political journey of Dr. Rajasekhara Reddy is no short of peoples saga and mentioned YSR was one of the tallest leaders who stood by all sections of the society with his welfare schemes and by successfully implementing them during his regime.
Speakers went on to say how Andhra Pradesh rose from the bottom to become one of the leading states in the country.
They recollected the wonderful instances Dr. YSR used to work and opined Dr. YSR will be remembered for the generations to come and said Andhra Pradesh is fortunate to have leaders such as Dr. Rajasekhara Reddy and Y.S. Jagan Mohan Reddy.
They recalled how Rajasekhara Reddy became the leader of the masses who worked for the welfare of the people beyond regions, beyond caste and beyond self-interests.
Later a cake was cut marking Dr. YSR Jayanti. Ramana Putlur delivered the vote of thanks to all who attended the birthday celebrations of Dr. YSR.
He thanked the National committee of Dr YSR Foundation for coordinating the event, Premier Desi District for providing the venue and food, Sakshi TV, TV9 and TV5 for covering the event and volunteers who made the event a grand success.