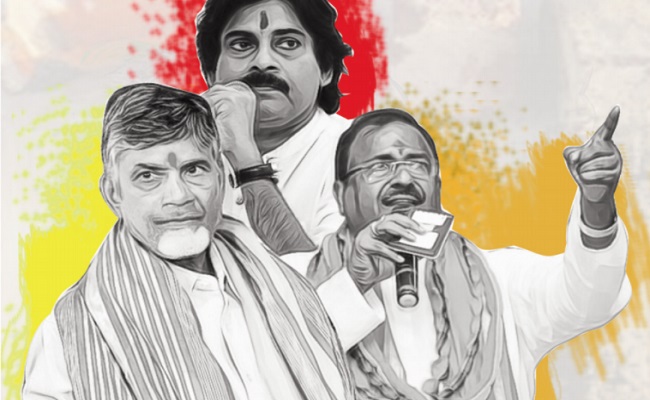 An unusual situation has risen in Andhra Pradesh. New Gods have arrived to protect the actual Gods. The recent spate of attacks on Hindu temples and Chief Minister Jagan being a Christian has become a weapon for the opposition parties and rivals. Surprisingly, allegations are flowing citing YCP is instigating all these attacks, it is triggering communal riots and what not.
A closer look reveals most of them are acts of mischief. While the beheading of statue of Lord Rama is not acceptable, the rest of the incidents are certainly trivial. Attempts are now being made to project Jagan is supporting all those notorious Christians. This has become so extreme that recently a worker who was painting a temple slipped and hurt his leg. Even that was converted as an attack on Hindu temples which is a shame.
Truth is, attacks on Hindu temples are happening since long. They took place during the time of TDP regime and prior to that. However, there was no Christian CM then and no wily politicians who will stoop to any level for mileage. Presently, the TDP and BJP are amplifying everything. And BJP acts as if they are the patent holders for Hinduism. Sadly, all are busy focusing on mileage instead of resolving it with a practical solution.
Finally, even Pawan Kalyan is joining this brigade. His announcement that he will arrange shadow teams for every temple is good. If that's his intent, why should he wait for the government to do it? He can do it immediately, is the question from people. They are also wondering if he has that kind of people support, he should have won at least 1 out of the 2 seats in the election.
Anyways, these new Gods arriving and claiming as protectors of actual Gods is a rather sorry situation for the people of Andhra Pradesh. They are going aggressive with vicious political plots and attacking Jagan giving a Christian link. But what they need to understand is, through these cheap acts they are losing their impression and image among the people.
Click Here for Latest Direct-to-OTT Releases (List Updates Daily)