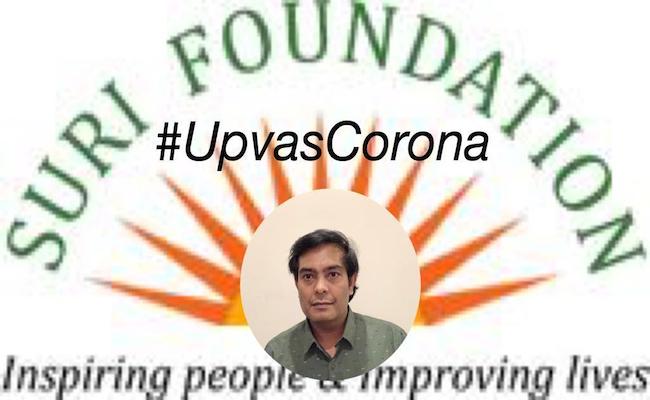 Dear friends,
As you know, millions of migrant workers and daily wage earners in India are facing severe hardship due to COVID-19. It is very moving to see the plight of these families lacking access to food and shelter.
Lack of income exacerbated the situation. On behalf of Suri Foundation, I am initiating a global #UpvasCorona (skip a meal or fast) campaign to give the workers support and strength. I am requesting you to either skip a meal or fast between 6 am and 6 pm on June 6th, 2020.
We are in this pandemic together. Let us honor this vulnerable population, share their pain, and give them comfort. Please join me on 6-6-2020 for #UpvasCorona, spread the message, and share the video.
While there is no direct material benefit to the migrant workers and no single effort can solve all problems, our hope is to build awareness of this section of the society! Thank you. Like this event on Facebook UpvasCorona
Follow the event on twitter: #UpvasCorona
Suri Foundation was established by Gopi Suri in the USA in 2012 with a primary mission to solve water, health, and sanitation challenges in India.
Foundation has been building toilets and RO water plants in Andhra Pradesh, Telangana, Gujarat, and Maharashtra. For more details on Suri Foundation, please visit: http://www.surifoundation.org/ or Suri Foundation, Inc
The organization quickly responded to Covid-19 in India by supplying provisions to Covid-19 impacted low income families including arranging transportation for stranded migrant workers.
CLICK HERE!! for the message on YouTube.
Press release by: Indian Clicks, LLC
CLICK HERE!! For the In Depth Updates on all the OTT Content