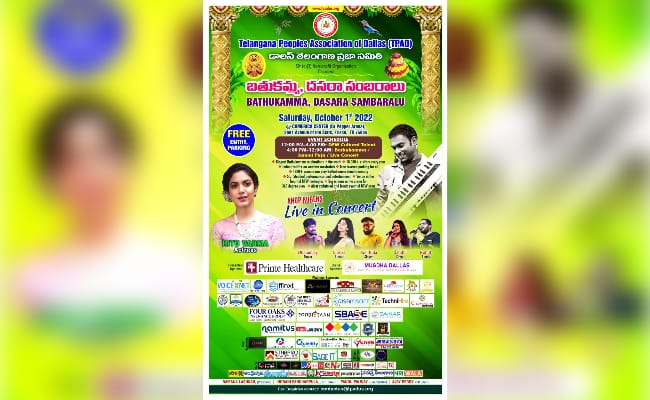 Anup Ruben's Live In Concert and Ritu Varam to Play Bathukamma at TPAD's 'Bathukamma & Dasara Sambaralu' in Dallas, TX
Anup Ruben's Live In Concert and Ritu Varam to Play Bathukamma at TPAD's "Bathukamma & Dasara Sambaralu" in Dallas, TX
Tollywood actress and Pelli Chupulu fame, Ritu Varma will be joining TPAD's Bathukamma and Dasara celebrations to be held on Oct 01, 2022. She will be playing Bathukamma with the women of the community.
It is well known that Telangana People's Association of Dallas (TPAD) has become synonymous to Grand and Biggest Celebration of Bathukamma festival, among Telugu diaspora across the world.
Preparations are in full swing for the highly regarded annual event and festival of Telugus in Dallas.
Picking up from where they left, from pre-pandemic days, they deputed over 300 volunteers working round the clock to take the celebrations to even bigger heights.
Speaking to Media, the leadership of TPAD lead by Ajay Reddy (Chair of Foundation Committee), Indrani Pancherupula(Chair, Board of Trustees), Ramana Lashkar(President), Pandu Palway (Coordinator) said, they are going to bring various programs to depict the significance of the Bathukamma and Dasara in collaboration with local dance schools, composing performances to praise the glory of Goddess Durga.
Under the supervision of the senior leadership of TPAD Rao Kalvala, Raghuveer Bandaru, Janakiram Mandadi, Ram Annadi, Ashok Kondala, Madhavi Sunki Reddy, Buchi Reddy Goli, and Pavan Gangadhara , they are making arrangements to cater to the expected turn out of 12000-15000. They said, security will be enforced through controlled access and stadium will have security people deployed across the stadium.
TPAD has been providing platform to youth to showcase their talent and make them part of the celebrations through activities of interest to them. The stage will be provided to youth for the entire afternoon to perform and showcase their talent in music, dance and singing.
To bring fine and high class entertainment for the celebrations, TPAD is bringing Telugu music director, Anup Ruben and his team to do live musical concert, in the evening.
The prominent members of TPAD Sudhakar Kalasani, Ravikanth Mamidi, Rupa Kannayyagari, Anuradha Mekala, who had held various leadership positions and who have been mentoring the TPAD team over the preparations, said, they are reaching out to a wider Indian and non-Indian community to encourage their participation in the festival and share our traditional wealth with them.
With planned Live Concert by Telugu Music Director and participation of Pelli Chupulu fame Ritu Varma, the expectations are high among the local Telugu Community and TPAD has the means and ability to deliver the goods to satisfy the growing expectations.
The celebrations will be held on October 1st, 2022 at Comerica Event Center (Dr Pepper Arena), Frisco, from 12 PM till midnight.