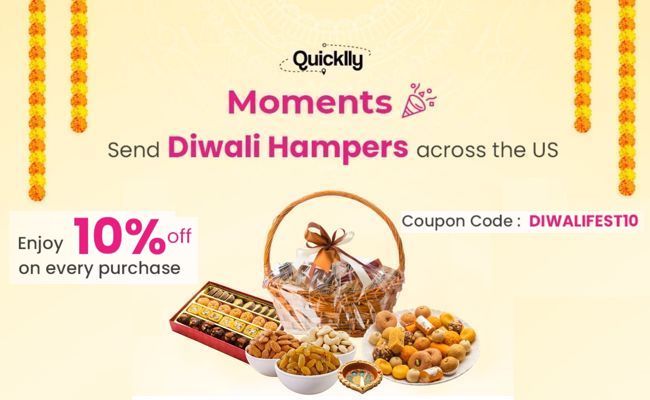 Every year around this time, we find ourselves running the market errands or scrolling down sites for Diwali gift ideas we'd planned to surprise our loved ones with. No matter how far you are, this Diwali, thank your friends for their presence and the invaluable support they've bestowed ever since.
Light up their time with moments of love with a box full of sweet surprises and savories, or just greet them the way you want from afar. Yes, that's true! Recreating the art of gifting as meaningful surprises, we present you some of the drool-worthy delightful gifts for your gang this festive season.
Choose your box of sweet delights from our range of Diwali Gift Hampers, Diwali Sweets, Diwali Family Feast, or Diwali Snacks, made of chosen ingredients for that authentic Indian taste. Enter your message and a personalized pre-recorded video, and you're set to fill your friends with eye-widening delights, creating Quicklly Moments.
Quicklly Moments is an absolute add-to-cart item for those wishing to relish their childhood memories or bring back good old days. Our nostalgia-centered gifting comes with a box of authentic Indian sweets, a pre-recorded video, and a digital note. Bringing the immaculate festive vibes right to your doorsteps, Quicklly Moments will amaze your companions by delivering them your personalized wishes just the way you want!
We shape your incisive personalized gift message ideas with Quicklly Moments, which delivers your personalized gift ideas just the way you want.
Gift Cards
Load them some love on their fingertips with our gift cards that come as the handiest Diwali gift. Bringing cheer to every face, our range of gift cards - Quicklly Gift Card, Speciality Gift Card & Corporate Gift Card, gives them the freedom to pick what they love, just with a swipe of love.
Add the amount you wish to load on the card, enter your message, and voila, you're done with your most convenient Diwali gifting!
Premium Gift Boxes
Come Diwali, and we're ready to savor the sense-delighting sweets that big win in the heart department. Swoon your friends with our box of premium sweet indulgences made of selected ingredients by LAUMIERE. Everything that goes onto the making of our fine sweets is wholesome and meaningful - a taste they'd swear by.
Brainstorming Diwali gift box ideas? Our range of premium sweets is your best bet for drool-worthy gifting for friends and family.
Delightful Restaurant Food/Sweets
With our 100+ partner online stores offering authentic Indian food and sweets, we deliver your friends a warm box of freshly made Indian food or sweets across the nation for free. Did you say you'd want to gift your friends in the U.S. a mouth-amusing Diwali treat? Oh, we grant your wishes with a click.
No matter how far you're, brighten up the festive cheer with our Quicklly gifts that tick all the boxes of taste & amazement. If your idea of gifting is synonymous with sweet & sense-delighting surprises, our carefully curated list of Diwali gift ideas for friends will have you covered.
Content Produced by Indian Clicks, LLC