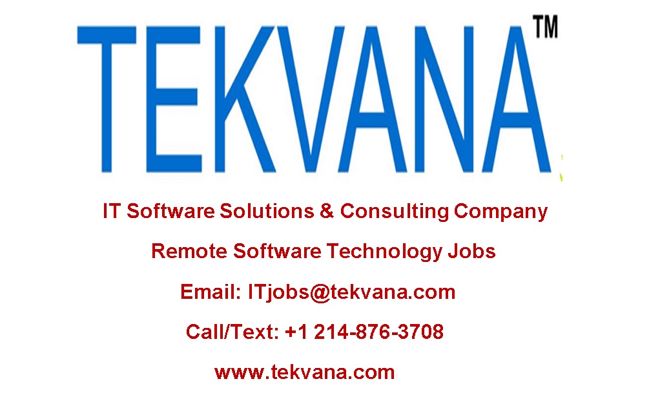 Tekvana Inc accepting resumes for positions we have. SAP, Workday , PeopleSoft , Java, Devops , Hadoop, Data Engineers. Cyber Security, Oracle, Data Scientist ,Python , Azure, Amazon Web Services, Go Lang, Sales Force, TeraData, Access Control, .Net, RPA, Oracle, FileNet, Machine Learning, Artificial Intelligence and Automation Testing.
Applicants need to be Authorized to work in United States. For qualified job applicants we can sponsor H1B Visa or H1 transfers. Tekvana Inc approval rate for H1 applications is 100% with zero rejections from USCIS till date.
For the Statistics visit H1B Trader, enter Tekvana Inc in the search or https://h1bgrader.com/h1b-sponsors/tekvana-inc-1ok8qo5wkd
Tekvana Inc sponsored many H1 Applicants since 14 years and 80% of the employees who are in the payroll still working for us.
Application Process:
- Submit your resume with Education, Location, Phone, Email to [email protected] cc [email protected]
- You will receive a reply via email or Call
- Our Screening team will reach you for an additional documentation if needed
Our Screening Phone # 214-876-3708 (Please leave a voice mail or Text / WhatsApp is allowed).
Tekvana Inc Established in 2008 served many clients for their Software needs on time within their Budget.
US Offices:
- Irving, Texas
- Malvern, Pennsylvania
- Frankfurt, Germany
Coming Soon Noida , Delhi, India
Call: 214-876-3708 email your resumes to [email protected]
Visit https://tekvana.com/
Please call us for details.
Content Produced by Indian Clicks, LLC