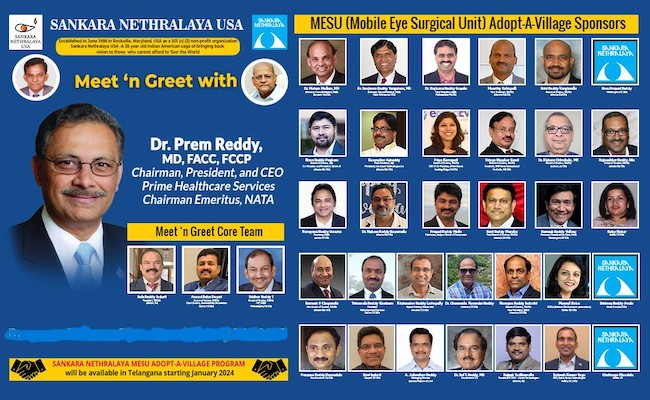 Sankara Nethralaya USA Adopt-A-Village MESU Sponsors Meet 'n Greet with Dr. Prem Reddy. Raised the grand total USD $350K.
For the last four decades, Sankara Nethralaya (SN) has restored the vision of millions of patients. Lot of poor patients got medical treatment free of cost. One of the unique services of SN is Mobile Eye Surgical Unit (MESU). SN is the only institute that got approval from Government of India to do eye surgeries remotely in the field.
MESU is a hospital on wheels and consists of two buses – one serves as patient preparatory room and the other one as operation theater. These buses along with about 25 members of medical staff go to remote villages, screen about 2,000 to 3,000 patients, perform cataract surgeries on 150 to 250 patients over a two-week period and return to base hospital after post-operative care. Patients with health complications will be referred to a base hospital.
Sankara Nethralaya USA (SN USA) is a fund-raising arm of SN and is spearheading the noble cause of eradicating the preventable blindness from India. So far, there are 2 MESU units – one is based in Chennai and the other one is based in Jharkhand.
SN USA raised funds to establish one more MESU based in Hyderabad to increase the footprint of this service in India. TATA foundation is sponsoring one more MESU that will be based in Jharkhand. Each MESU will go up to 500 Kilometers from the base hospital.
SN USA President Sri. Bala Reddy Indurti is doing a commendable job to increase the footprint of MESU service in India by spearheading Adopt-A-Village program in Indian diaspora. For his invaluable contributions, SN conferred Sankara Ratna, the highest award in that institute. North American Telugu Association (NATA) also recognized his outstanding services and conferred prestigious Community Service award in recently organized convention in Dallas.
To raise the awareness, SN USA organized Meet 'n Greet with distinguished Doctor, Entrepreneur and Philanthropist Dr. Prem Reddy in the NATA convention on July 1st, 2023. He recently sponsored Adopt-A-Village program in his native place Nidiguntapalem near Nellore and restored the vision of hundreds of poor patients. Dr. Prem Reddy "Chairman, President and CEO of Prime Healthcare Services & Chairman Emeritus, NATA" is the Chief Guest of this event. BRS MP Badulgula Lingaiah Yadav garu is the guest of honor at the event.
Bala Indurti along with core committee members Anand Babu Dasari and Sridhar Reddy Thikkavarapu organized this successful event. Sankara Nethralaya USA team felicitated Dr. Prem Sagar Reddy for his outstanding services to Indian community across the globe.
In this meet, Dr. Prem Reddy felicitated Sankara Nethralaya USA team and MESU sponsors who contributed and pledged for Adopt-A-Village program in 2023, 2024 in Hyderabad, Chennai and Jharkhand.
MESU Adopt-A-Village donors to be completed in 2023: Dr. Raghava Reddy Gosala, Ramesh Reddy Valluru, Prasad Reddy Mallu, Dr. Kishore Reddy Rasamallu, Ruby Nahar, Anand Babu Dasari.
MESU Adopt-A-Village donors to be scheduled in 2024: Moorthy Rekapalli, Kiran Reddy Pasham, Karunakar Asireddy, Krishnadev Reddy Lattupally, Dr. Cheemerla Narender Reddy, Ramesh Chaparala, Dr. Bal T. Reddy, A. Jalandhar Reddy, Priya Korrapati, Ravi Reddy Maraka, Sridhar Reddy Thikkavarapu, Dr. Mohan Mallam, Narayana Reddy Gandra, Thirumala Reddy Kumbum, Prasuna Dornadula, Meenal Sinha BOXA, Srini Reddy Vangimalla, Sateesh Kumar Segu, Rajesh Tadikamalla, Chaitanya Mandala, Bhaskar Ganti, Bala Reddy Indurti, Narayan Reddy Indurthi, and Ravi Indurti.
SNUSA Executive Committee, Board of Trustees and Past Board of Trustees who have attended this event: Bala Reddy Indurti (President), Moorthy Rekapalli (Vice President), Syam Appali (Joint Secretary), Soma Jagadeesh (Joint Treasurer), Prasad Rani, Srini Reddy Vangimalla, Sridha Reddy Thikkavarapu, Anand Babu Dasari, Rajasekhar Reddy Aila, Meher Chand Lanka, Dr. Jagannath Vedula, Narayan Reddy Indurthi, Vamsi Krishna Eruvaram, Raju Pusapati, Vinod Parna, Priya Korrapati, Ramesh Babu Chaparala, Dr. Reddy Urimindi, and Ravi Reddy Maraka.
Support for this noble cause of restoring the vision of indigent patients was greatly appreciated in the meet 'n greet by everyone. Several donors came forward during that meeting and pledged to sponsor the Adopt-A-Village program. Generous contributions like this make a difference in poor patients' lives & give a lot of encouragement to the volunteers working for this noble cause.
Thanks to founder SV Acharya, SN India founder Padma Bhushan awardee Dr. SS Badinath, and Chennai leadership Dr. Girish Rao, Dr, Surendran, Kannan Narayanan, Ramachandran Gopalan, and Suresh Kumar for continued support.
Special thanks to core committee members Bala Reddy Indurti, Anand Babu Dasari, Sridhar Reddy Thikkavarapu.
Thanks are due to Moorthy Rekapalli, Shyam Appali, Vamshi Krishna Eruwaram, Soma Jagadeesh, Narayan Reddy Indurthi, Vinod Parna, Meenal Sinha, Theagarajan, Deendayalan, Srinivas Emani, and Kulateja to make this program successful.
Please visit www.SankaraNethralayaUSA.org for more details and donate generously to restore the vision of poor patients.
Content Produced by Indian Clicks, LLC