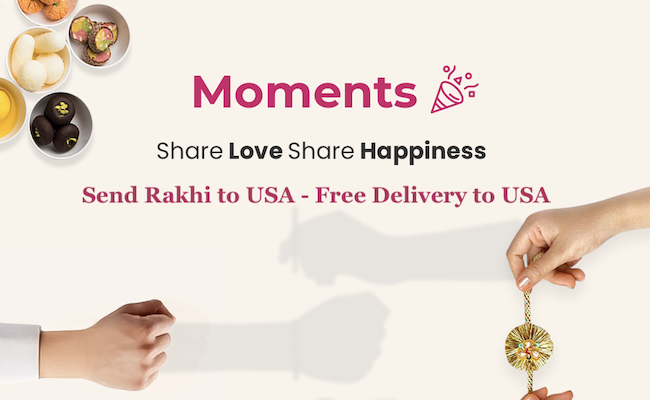 Send Rakhi and Gifts to the USA from India With Free Shipping & Celebrate Raksha Bandhan with Quickly Moments curated gifts and personalized videos.
Special Siblings day is around the corner, and you'd want to remind them of the special place they hold in your life. How much they mean to you, and how fulfilling your life seems when they are around. That annoyance, hugs, and fights over the last piece of pie; cranky when near yet loving when far! Let not distance be the reason to stop your form from showing confetti of love, laughter, and blessings.
This Rakhi, celebrate your siblings - gifting them memories with moments.
Valuing your emotions that strike the right chords with your dearest partners in crime, we have made a bouquet of beautiful moments you can share with your little munchkins, no matter how far they are! Moments, an initiative by Quicklly, the nation's most comprehensive one-stop marketplace for Indian and South Indian cuisine, is as unique as our celebration of people, palate, and of course, diverse Indian culture.
Raksha Bandhan, a festival of love, hope, and togetherness that celebrates the unique and unconditional bond every sibling share, is a day to remind your beloved how special they are. And helping you accomplish the quest in the most unique and adorable way, we present Quicklly Moments - our take on the art of sharing rakhi gifts as we look at it through a new lens of play!
Concept of Moments?
Sticking tight to the ethos of 'recreating the art of gift giving,' the thought that veered and shaped the very idea of Moments, our team turned the subtle art on their heads that now prompts surprise and wonder, creating moments that stay true to life.
With Moments, surprise and fun filled memories are the least you can expect. Let your siblings know how much you love them and that they mean the world to you, just as you want! Quicklly Moments allows you to create a personalized video and exclusive hand-written digital note with a sweet gift box to make your surprise lip-smacking and gladdening.
Features of Quicklly Moments
As an ardent believer in 'capture it & remember it,' we help you build moments that uphold the idea of immortal memories that your much-loved shall preserve in their treasure chest forever. Here's what you can expect from our way of surprising your sissies and bros on this pious occasion of Raksha Bandhan.
Deliver the sense-delighting taste of authentic Indian sweets from the best Indian sweet stores across the U.S., right to their doorsteps. Let them unbox our personalised gift box that holds plenty of magic and delicious wonder!
Send your pre-recorded video that captures your love-filled wishes. Gift them some love-filled Moments!
Send a personalized hand-written digital note as one of your rakhi gifts. Your words, your love!
As we deliver all these auspicious love-pouring gifts at the most competitive prices across the nation for free, we help you create Quicklly Moments. that pour in love from all directions.
This Rakhi, celebrate your eternal bond of love with Quicklly Moments that encapsulate worldly affection to surprise your crazy partners, letting them know that if ever they fall, they have you by their side always!
Gift the best with whom your childhood wouldn't have been a rollercoaster of smiles. We make magic possible with Quicklly Moments!
Content Produced by Indian Clicks, LLC