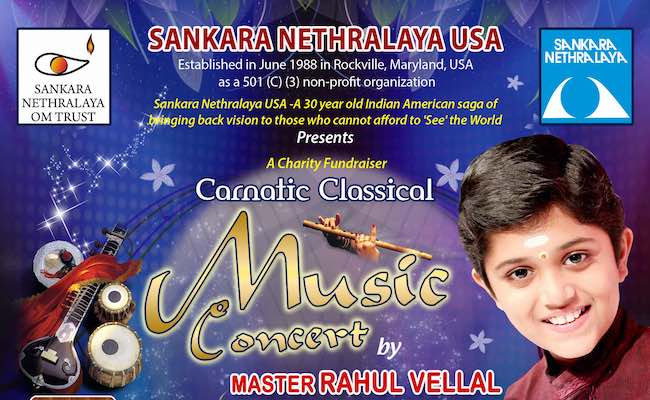 Sankara Nethralaya USA presents Live Classical Music Concert by Rahul Vellal.
Due to Covid-19 our fundraising events were impacted and hence we are live streaming this unique event. Please DO NOT miss the live streaming of the Carnatic Classical Music concert by the child prodigy Master Rahul Vellal on June 20th, this coming Saturday.
Please CLICK HERE!! for the Letter Of Appeal & Event Flyer.
CLICK HERE!! to watch the Child Prodigy Rahul Vellal Announcing His Charity Concert for Sankara Nethralaya.
We are humbled and proud to serve as a Board of Trustees of Sankara Nethralaya OM Trust (USA), established in June 1988 in Rockville, Maryland, USA as a 501 (C) (3) non-profit organization with a sole objective to support Sankara Nethralaya (SN), Chennai, India, a comprehensive eye care center for providing free eye care of international standard to indigent patients in the Indian sub-continent.
Newsweek recently named Sankara Nethralaya in the list of "World's Best Hospitals-2020" in the field of Ophthalmology. We are delighted to inform you all that Charity Navigator (the organization that ranks nonprofits in US) has awarded Sankara Nethralaya OM Trust (USA) a 4-star rating. This is the highest ranking an organization can receive in USA.
Sankara Nethralaya has been a pioneer in brining high quality, cost free community eye care services to the poor visually impaired and started four decades ago by the Living Legend Dr. S. S. Badrinath. For example, for fiscal year 2018-2019 Sankara Nethralaya treated close to 450,000 outpatients and performed close to 23,000 surgeries. If you have any questions, please contact me via email [email protected].
Please visit http://www.sankaranethralayausa.org/ for more information.
Request you to donate generously using the link above for a noble cause and use "Nayanam Pradhaanam, Rahul Vellal, " in the Reference for tracking purposes.
Thank you!
Sankara Nethralaya OM Trust (USA)
Executive Committee and Board of Trustees
Press release by: Indian Clicks, LLC