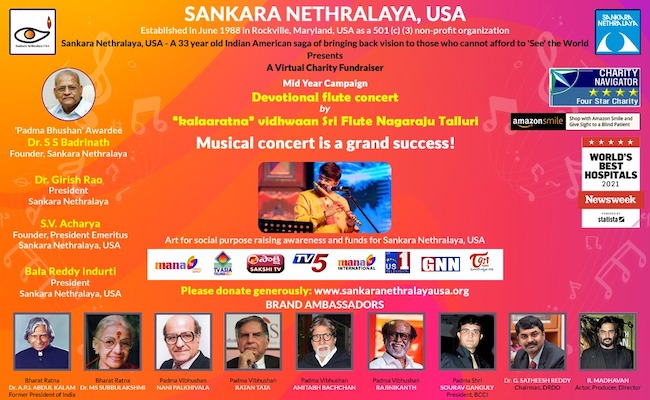 Sankara Nethralaya (SN) is a non -profit charity organization providing ophthalmic (eye) care throughout India. For the last four decades, SN has treated millions of patients.
To help the mission of SN, a Trust was formed in USA thirty years ago so that NRIs can contribute. Sankara Nethralaya USA is based in USA and has received the highest rating of four stars by Charity Navigator for maintaining financial accountability and fiscal transparency for funds donated by donors and how they are utilized towards the stated cause.
Every year, Sankara Nethralaya USA organizes Indian classical dance and music programs in various cities to raise awareness and raise funds. Because of the pandemic, this year all programs were conducted virtually.
Sankara Nethralaya executive committee members - President Emeritus S V Acharya, President Bala Reddy Indurti, Vice President Moorthy Rekapalli, Secretary Srinivas Ganagoni, Treasurer Banumati Ramkrishnan, Joint Secretary Sowmiya Narayanan, Joint Treasurer Raja Krishnamurti, and Past President Leela Krishnamurthy appealed the audience through TV channels to support the cause and help indigent blind patients in India.
As part of our mid-year campaign, Kalaratna, Vidwan Flute Nagaraju Talluri performed on July 25th, 2021. The following songs were performed during the concert.
- Maha Ganapateem - Lord Ganesh
- Adivo Alladivo - Annamayya
- Janani Janani - Tamil song by Ilayaraja
- Shyam Teri Bansi – Hindi - Lata Mangeshkar
- Bhagyada Laxmi Baaramma- Kannada
- Tandanaanaa Hare - Annamayya
- Payoji Maine Raam Ratan Dhan Payo - Hindi - Meera bhajan
- Harivaraasanam - Malayalam
- Shankara Nada Sharirapara - SPB – Sankarabharanam
- Sathyam Shivam Sundaram - Hindi - Lata Mangeshkar
Virtual music concert was broadcasted in the following major channels:
ManaTV: https://www.youtube.com/watch?v=g52jaxiPe1I
TVAsia Telugu: https://www.youtube.com/watch?v=GVEzgUI8nmk
Saakshi TV: https://www.youtube.com/watch?v=XWKhCEjTOV0
TV5: https://www.youtube.com/watch?v=xtHjP2nthGQ
GNN: https://www.youtube.com/watch?v=PxXoGUQzCVk
Viewers thoroughly enjoyed the concert and Sankara Nethralaya midyear campaign raised significant amount to restore the vision to many indigent blind patients in India. Kudos to the fundraising team, philanthropists, and the community for their unconditional support.
President Bala Reddy Indurti, President Emeritus S V Acharya thanked all the Trustees and Volunteers who are working selflessly to restore vision for indigent patients. Vice President Moorthy Rekapalli thanked the efforts of Sankara Nethralaya USA and the service of NRIs. President of Sankara Nethralaya India, Dr. Girish Rao elaborated various services provided by Nethralaya to the needy people during pandemic.
Special thanks to Shyam Appali, Prameela Gopu, Theagarajan, Suresh Kumar and Sunita Doss for their assistance in organizing this program and taking care of technical aspects to present the content in different channels.
Thanks are due to K.G. Venkatraman, Krishnaraj Bhat, Dr. Raj Modi, Dr. Reddy Urimindi, Srini Vangimalla, Shankar Setty, Jagannath Vedula, Narayan Indurthi, Upendra Rachupally, Rajasekhar Aila, Ravi Maraka, and Prasad Rani for promoting the event in social media, and TV channels.
Thanks, are also due to media partners manaTV, TVAsia Telugu, SakshiTV, TV5, GNN, US1, and Tori for promoting Sankara Nethralaya activities.
If you have any questions, feel free to reach our committee members at the following link: https://www.sankaranethralayausa.org/committee-members.html
We are also pleased to inform you that Founder of Sankara Nethralaya USA Mr. S. V. Acharya and his wife Mrs. Nirmala Acharya were interviewed by Mana TV and the interview was broadcasted by ManaTV on July 23rd, 2021. Mr. & Mrs. Acharya explained their involvement in Nethralaya, experience with Nethralaya Founder Living Legend, Padma Bhushan Dr. S. S. Badrinath and growth of Sankara Nethralaya USA during past 33 years.
Please visit https://www.youtube.com/watch?v=0788I0UDVpA to view the interview.
Thanks to Leela Krishnamurthy and Narayan Indurthi for coordinating musical concerts and walkathon in Houston TX.
For more information and to donate please visit us at https://www.sankaranethralayausa.org
If you like to donate using PayPal please click the following link: https://www.paypal.com/us/fundraiser/charity/1769240
Content Produced by Indian Clicks, LLC