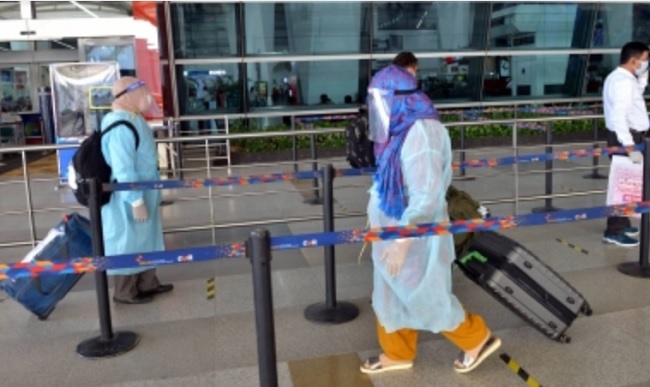 Effective December 6, all international air travelers boarding a flight to the United States who are age 2 and older, including U.S. citizens, U.S. nationals, Lawful Permanent Residents, must demonstrate a negative test within one day prior to boarding a U.S. bound aircraft. These guidelines will apply to all travelers, regardless of nationality or vaccination status. This tighter testing timeline provides an added degree of public health protection as scientists continue to assess the Omicron variant. More details regarding these updated guidelines are available from the Centers for Disease Control and Prevention.
The CDC defines the one-day period as one day before the flight's departure. The travel guidelines use a one-day timeframe instead of 24 hours to provide more flexibility to the air passenger and aircraft operator. By using a one-day window, test acceptability does not depend on the time of the flight or the time of day that the test sample was taken. For example, if your flight is at 1pm on a Friday, you could board with a negative test that was taken any time on the prior Thursday.
Please note that the new testing requirements are likely to increase demand for tests with one-day results for international travel across India, since other countries have also implemented similar travel guidelines. 24/7 COVID-19 testing, with results available within hours, is available at most international airports in India, although demand for airport testing could increase. See the airport websites for more information. Labs in major cities continue to offer same-day results, although capacity may vary across cities in India. Please check with labs from your departure city to ensure you will receive results prior to your international departure to the United States. Please also note that many private labs are closed on Sundays, which could impact your ability to receive results in time for U.S. bound flights on Mondays.
Foreign nationals will need to demonstrate that they are fully vaccinated along with proof of a negative test within one day of their U.S. bound flight. U.S. citizens, LPRs, or the small number of excepted unvaccinated foreign nationals will not need to demonstrate proof of vaccination.
Airlines must deny boarding to passengers who do not meet these requirements or those who test positive for COVID-19.
For additional information or if you have specific questions, please contact your airline and visit the CDC's website.