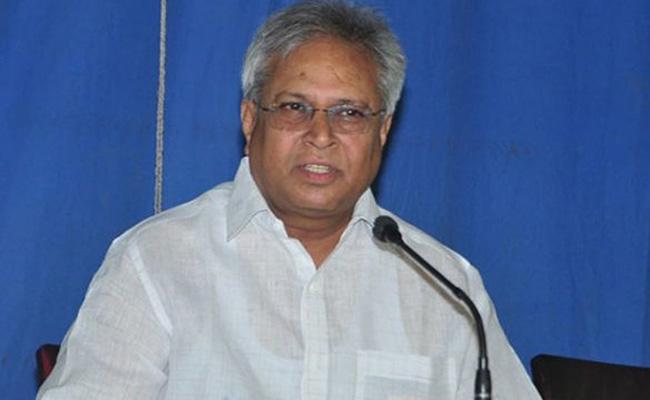 There is a popular poem in Sumathi Satakam, "Upakariki upakaaramu..." that says- "there is nothing great about helping a friend, but the wise man helps even the foe who harmed him".
Today Vundavalli Arun Kumar narrated a story of Nelson Mandela implying the sense in the above poem.
He said, "Nelson Mandela was in jail for 25 years and faced many insults. He was tortured to dig his own pit to bury him if he was dead. The cops used to piss on him when he asked for water. He came out from jail withstanding all that hell. He became the President. Once in a star hotel during the dinner time, he saw a cop who ill treated him when he was in prison and called him. The cop had shivered to face the President. But Mandela called him on to his table, offered him good food and sent him away. I am saying this to see YS Jagan in Mandela's shoes. He should stop his revenge on the opposition party".
Well, this is the crux of his long speech.
But he might have forgotten what had happened during Balakrishna's shooting episode.
The then Chief Minister of united Andhra Pradesh YS Rajasekhara Reddy has helped Balakrishna on the request of Chandrababu Naidu from not getting trapped into the murder attempt case. Since the victims were alive he made the cops compromise the issue without pushing him behind the bars.
But what had Chandrababu Naidu done in return? He has shown his tyranny by filing case after case on YS Jagan and oppressing him in prison for 16 months, after the death of YSR.
Vundavalli, being an advocate, should know on what grounds he can be troubled as a remand prisoner for such a long time. The system of CBN has strategically imprisoned him. Even Balakrishna had made big fun of this entire imprisonment episode then.
Despite this, neither Vundavalli nor KVP resigned from the Congress as a token of concern towards the son of YSR under whose shadow they enjoyed their political power.
How can YS Jagan forget all this?
So, Vundavalli should know that Nelson Mandela's formula was already applied by YSR on Balakrishna and the result was already tasted by Jagan.
Now YS Jagan Mohan Reddy will not repeat the same old strategy for two reasons. One, that's a failed thing; two, he is not YSR.