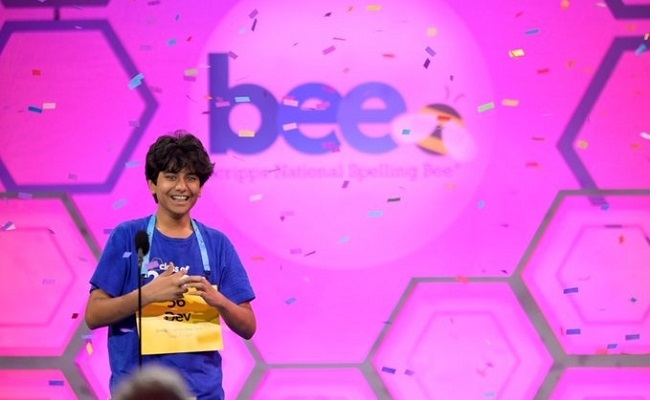 Dev Shah, a 14-year-old Indian-American teenager from Florida, has won the 2023 Scripps National Spelling Bee in the US, by correctly spelling the word "psammophile" -- an organism that lives in sandy areas.
On Thursday evening, Shah, a student from Largo, became the winner of the 95th national bee and the $50,000 prize, the BBC reported.
The runner-up was 14-year-old Charlotte Walsh from Arlington, Virginia. She failed to correctly spell "daviely" in an earlier round.
Eleven students made the finals after 11 million people entered spelling competitions, according to the organisers.
"It's surreal... my legs are still shaking," the BBC quoted Dev as saying as he collected the trophy on stage, joined by his family.
His mother said she was "very proud" of him.
He had previously entered the competition in 2019 and 2021, finishing tied 51st and tied 76th, respectively.
On his way to the final he correctly spelled words such as bathypitotmeter, schistorrhachis and rommack. He also correctly answered a question, saying that a magician would be most likely to practice legerdemain.
In 2022, Harini Logan, an Indian-American from San Antonio, Texas, won the first-ever spell-off at the 2022 Scripps National Spelling Bee against Vikram Raju getting 21 of 26 words right.
Indian-American students have dominated the competition and have won every Scripps National Spelling Bee since 2008.
The Spelling Bee has seen a total of 26 winners, comprising a historic win of seven out of eight students of Indian origin in 2019.
The Spelling Bee launched back in 1925, has been noted as the country's largest and longest-running educational program.