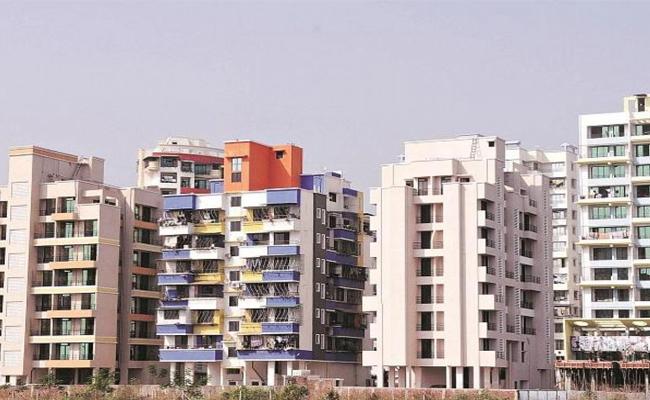 Record low home loan rates, discounts and incentives offered by developers and lower taxes are helping the Indian residential property sector to overcome the pandemic-induced slowdown.
Homebuyers are making the most of these factors including financial benefits and flexible payment plans being offered by the builders.
Also, the ongoing festive quarter is expected to push home sales values up on back of increased demand fed by financial schemes and offers.
The value of housing sales across the top seven cities in the quarter ended September collectively went up to ₹29,731 crore as against ₹12,694 crore in the preceding quarter, a significant sequential jump of 134%, showed data from Anarock Property Consultants.
According to property market experts, the latest sales activity right in the middle of the pandemic indicates the worst is over for residential real estate and it will continue to show an uptrend from here.
"As was to be expected, the second quarter was lackluster given the lockdowns and overall pressures on the economy. What is remarkable is how the third quarter stacked up; clearly indicating that buyer sentiment was in place and merely held at bay by uncertainty. Based on these results, there is now every reason to look at the coming festive season with confidence - homebuyers are back on the market," said Anuj Puri, chairman, Anarock Property Consultants.
Home Sales in Top Cities Jump 134% QoQ
Overall sales value in 2020 has been the highest in Mumbai Metropolitan Region (MMR) at ₹49,313 crore followed by Bangalore at ₹12,569 crore and ₹9,430 crore in the National Capital Region (NCR).
"Pandemic life has surely underpinned the value of own house which along with the favorable add-ons like stamp duty cut, rational pricing, lucrative deals in the offing by developers has enhanced consumers' confidence to take a buy decision at the right time. The time is ripe for first-time homebuyers to move out of rental accommodation and buy their own houses. Also, for many to grab the right opportunity and upgrade for large spacious homes in order to encompass work or study from home culture," said Niranjan Hiranandani, national president, NAREDCO.
He expects the upcoming festive season to witness a surge in sales from the domestic buyers as well as the non-resident Indians (NRIs).
The pre-Covid-19 quarter of January-March had registered home sales worth around ₹46,306 crore, while the first-nine months of the year has recorded ₹88,730 crore sales against ₹154,320 crore a year ago.
Apart from offers from developers, homebuyers are also assisted with many flexi-innovative financial schemes from the banks and housing finance companies to increase retail credit supply and garner a good consumption demand.
Both Hiranandani and Puri believe that overall green shoots are visible in the sector as home sales registrations have increased, providing more definite evidence of improving homebuyers' sentiments and gradual revival of the sector.
Source: EconomicTimes