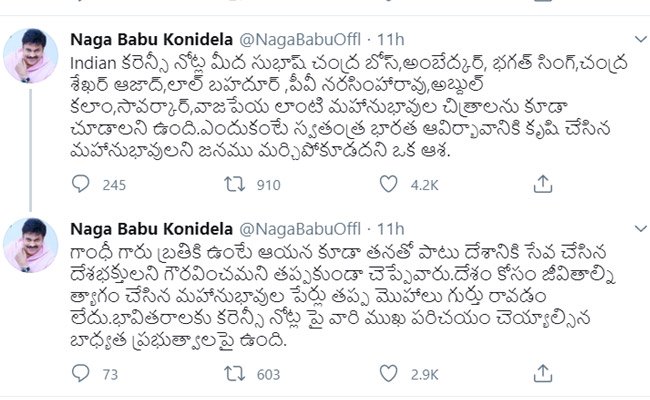 Saw your latest tweet about images on currency notes. In your earlier your tweet you expressed reverence to Gandhi. But now you want his image to be replaced with others' on currency notes so that people would not forget those stalwarts who strived for emergence of independent India.
Whether their images appear on currency notes are not, nation is constantly reminded of them through stamps, statues, roads, colonies and institutions named after them.
Now let us review your list of recommendations. Dr. Abdul Kalam did not participate in freedom struggle. Vajpayee was 22 when we got freedom. He was a mere volunteer but not a leader of any stature then. PV Narasimha Rao was 26 in 1947 and his activities as a volunteer of anti-Nizam struggle were confined state of Hyderabad only.
Lal Bahadur Sastry, as a disciple of Gandhi, participated in freedom struggle but he was known only in his home state of Uttar Pradesh. Till Nehru made him Central Railway minister in 1952, he was not known nationally.
Bhagat Singh and Chandra Sekhar Azad fought against British in the manner they believed in. But since majority of the Indians did not have faith in the path of violence, there were not many followers for them.
Savarkar had two facets. Till 1920, he fought against British fiercely but after imprisonment in Andaman jail, he made peace with British and renounced violence. From then on, he turned a soldier of Hindutwa. Since 1924, he did not stir out of his native Ratnagiri district, as per the arrangement he had with British.
Subhas Chandra Bose was a freedom fighter who acquired national stature after becoming president of Indian National Congress in 1938. After he left Congress in 1939, he formed a political party called 'Forward Bloc' but it had no takers beyond Bengal. Then he went and joined hands with notorious dictators like Hitler, Mussolini and Emperor of Japan.
His Indian National Army, formed with the help of military assistance of Japanese army proved to be a misadventure. British could easily defeat it. After his death, nation revered him for his sacrifice but did not consider him on par with Gandhi, who mobilised masses against a massive empire.
Dr. Ambedkar devoted his erudition and energies to fight for the rights of untouchables against the oppression by upper caste Hindus. Since the then leadership of freedom struggle was dominated by upper castes, he did not join hands with them. While those leaders boycotted Simon Commission set up by British, he cooperated with it.
In 1932, when the British announced the formation of a separate electorate for "Depressed Classes", he supported it. British never troubled him or put him in jail. Since he projected himself as a leader of a set of people, other sections in the society opposed him. Since he supported the concept of Pakistan, he was disliked by many Indians of undivided India. When he started 'Independent Labour Party' and later 'Republican Party', its influence was confined to Bombay Presidency. Majority of the harijans all over the country believed in Gandhi and stayed with Congress.
Gandhi is acknowledged as "Father of Nation" and hence appears on currency notes. If you have hailed all the stalwarts you mentioned as great sons of the soil, there would not have been any discussion. But you took freedom struggle as reference point and hence this elaboration. Now you tell me, which of these is worthy of substituting Gandhi on currency note.
To help you understand the logic of Gandhi's photo, I will give an analogy. If some magazine is bringing out a book titled "The Glory of Tollywood", it would put Chiranajeevi's photo on the cover, but not yours, though you are a fine actor and played different type of characters more number of times than him.
Written By M.