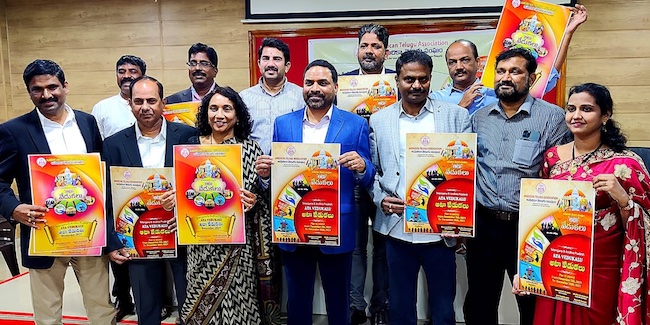 ATA Vedukalu & Seva Days in both Telugu States from December 5, 2021 to December 26, 2021.
American Telugu Association (ATA) was founded in 1990 for Telugu people living in the United States to continue our traditions, practicing our culture and heritage.
The organization's motto is passion for our culture, compassion for our people.
ATA is always in frontlines to help in any emergency situation for the people living in the US. ATA does so many charity activities to help the community at large in both USA and in India.
During Covid-19 situation earlier this year with shortage, ATA distributed 600 oxygen concentrators in both Telugu States.
ATA is hosting 17th ATA Conference and Youth Convention in Washington, DC during July 1, 2 & 3, 2022.
As precursor to the Conference, ATA conducting ATA Seva Days & Vedukalu for 3 weeks starting from December 5th to 26th, 2021.
These programs are include several charity programs like, school improvement projects, distribution of computers, school bags and sports equipment to students.
Many health camps are being organized as part of the Seva days in many villages.
These include cancer screening for women, preventive care for adolescent girls, vision camps which include providing free eye glasses and surgery for those needed.
To assist needy women to be self-sufficient, ATA is conducting skill development programs in Warangal and in Hyderabad.
ATA is conducting business seminars and education seminars in both Telugu states.
On December 11th, ATA is hosting International Telugu Literary Conference at Best Western Ashoka Hotel from 10 am to 7pm.
This event includes several segments hosted by renowned writers, poets and screenwriters.
As part of the cultural events, ATA is hosting a musical extravaganza in Warangal on December 13th, in honor of Annamayya, Ramadasu and Tyagaraja.
First time ever ATA hosting a cultural program in Tirupati on December 18th, 2021.
As part of these programs ATA also conducted a singing competition called ATA Nadam for the benefit of young singers in Andhra and Telangana.
This program was judged by music directors, singers - Koti, Nihal Konduri, Nutana Mohan, Sai Srikanth, Vijayalakshmi and Rama Chary.
Over several episodes from 200 participants, judges selected 4 winners who will be recognized and awarded at Grand Finale.
At the conclusion of Seva Days, a Grand Finale will be held at Ravindra Bharati in Hyderdabad on December 26th, 2021.
Grand Finale will include cultural programs, award ceremonies, life time achievement award will be given on this night.
ATA Team who arrived currently includes President Bhuvanesh Boojala, President-Elect & Chair of ATA Seva Days & Vedukalu Madhu Bommineni, Co-chairs Anil Boddireddy and Sharath Vemula, Convener Sudhir Bandaru, Joint Secretary Ramakrishna Ala, Board Members Sharada Singireddy, Tirupathi Reddy Yerramreddy, Hari Damera, past President Karun Asireddy and Goutham Goli.
Visit: https://americanteluguassociation.org/
Content produced by Indian Clicks, LLC