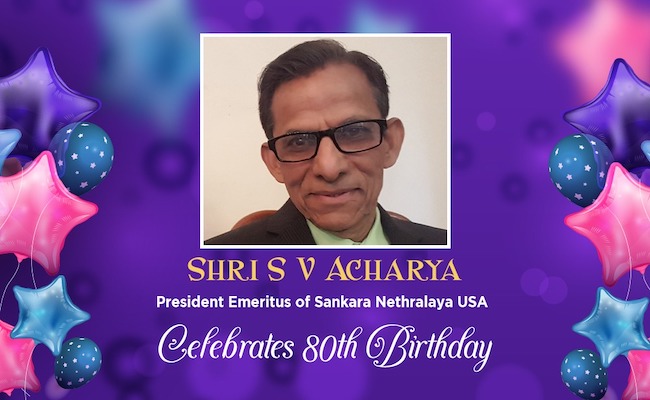 S V Acharya, President Emeritus of Sankara Nethralaya USA, Celebrates 80th Birthday.
Sagri Vasudeva Acharya, fondly known as S.V. Acharya, recently celebrated his 80th birthday on July 24, 2023. Hailing from Ambalpadi village in Karnataka's Udupi district, Mr. Acharya understood from a young age the value of diligence and tenacity. After earning his B.Com in Udupi and becoming a Chartered Accountant in Bangalore in 1967 with a national rank, he qualified as a Certified Public Accountant in the USA in 1974.
In his early career, Mr. Acharya held managerial roles at esteemed Indian organizations - LIC of India and ACC Ltd. Later, in 1972 he embarked on a new professional chapter, relocating to the United States. There he assumed diverse positions, from Controller at an international bank to Chief of Budgetary Operations for a prominent U.S. federal agency, until his well-deserved retirement in 2016.
Throughout his distinguished career, Mr. Acharya's remarkable contributions earned prestigious honors. As Editorial Advisor for the Journal of Accountancy, he received their Distinguished Service Award. The State of Maryland also presented him their Meritorious Service Award for outstanding performance as Fiscal Administrator.
Beyond his professional accomplishments, Mr. Acharya actively participated in community and cultural organizations. He served as a Trustee of the Sri Siva Vishnu Temple in Washington, D.C. and held leadership positions in various Kannada Associations, in Chicago, San Francisco and Metro DC focusing on finance and auditing.
His most notable contribution has been establishing the non-profit Sankara Nethralaya USA (SN USA) to support the renowned Chennai-based eye care institution. Inspired by Sankara Nethralaya's founder Padmabhushan Dr. S.S. Badrinath, Mr. Acharya founded SN USA in 1987 to raise funds for underprivileged patients in India. Under his visionary leadership, SN USA has grown exponentially, with 17 chapters, 35 trustees nationwide, and annual fundraising exceeding Indian Rupees 10 crores with minimal overhead expenses.
For his extraordinary service to Sankara Nethralaya, Mr. Acharya received their highest honor, the Sankara Ratna Award in 2004. In 2022 Srinivas University in Karnataka awarded him the Outstanding Achievers Award. Now after 35 years of service, he continues providing invaluable guidance to SN USA as President Emeritus.
Throughout his journey, Mr. Acharya has been supported by his devoted wife Nirmala Acharya and their family. He resides in Rockville, Maryland and has two sons and a daughter-in-law who have encouraged his philanthropic work. As Mr. Acharya celebrates this 80th birthday milestone, his life stands as an inspiration of how determination, service, and compassion can uplift lives across borders.
Content Produced by Indian Clicks, LLC