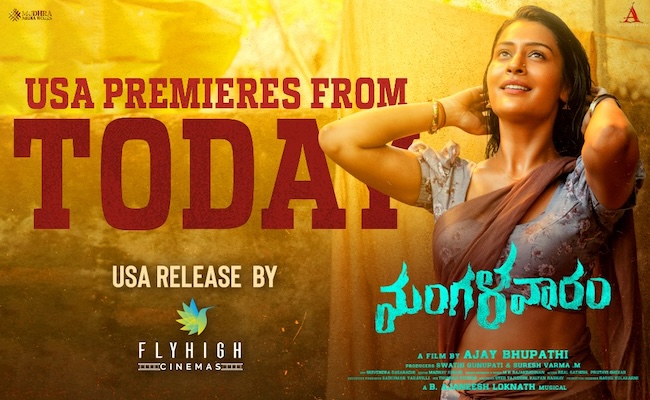 After a sensational blockbuster like Rx100, the combo of Ajay Bhupathi and Payal Rajput has come again. But this time with an intense and intriguing thriller, "Mangalavaaram".
Payal Rajput plays a strong protagonist's role in this dark thriller. The teaser and trailer released have been receiving stupendous responses from movie lovers, making the film the most anticipated movie of recent times.
This edge of the seat thriller is set to bind the audience in theaters from 17th November worldwide, whereas the USA premieres are taking off today on a grand scale by the reputed overseas distributors, "Fly High Cinemas.".
Touted to be a horror thriller, 'Mangalavaaram' revolves around the mysterious deaths happening in a village on every Tuesday. The super-talented Tollywood director Ajay Bhupathi made 'Mangalavaaram' as one of its kind in Tollywood packing it with many surprises that should be witnessed in big screens only.
Produced by Ajay Bhupathi, Swathi Reddy Gunupati and Suresh Varma under the banner of Mudhra Media Works and A Creative Works, 'Mangalavaaram' has Payal Rajput in the lead role, while Nandita Swetha, Divya Pillai, Priyadarshi Pulikonda, Ajay Ghosh, Shravan Reddy, Shritej, Ajmal Amir, Ravindra Vijay, Chaitanya Krishna, Laxman played other important roles.
'Kantara' fame Ajaneesh B Loknath has breathed life into the film with his stunning background score. Cinematography by Dasaradhi Sivendra stands top by perfectly setting the mood of the fim.
Secure your tickets for the premieres and get spell bounded in big screens.
CLICK HERE! for "MANGALAVAARAM'" Trailer & USA Schedules.
Thanks for the love and support!
+1 732-630-2499
[email protected]
Content Produced by Indian Clicks, LLC