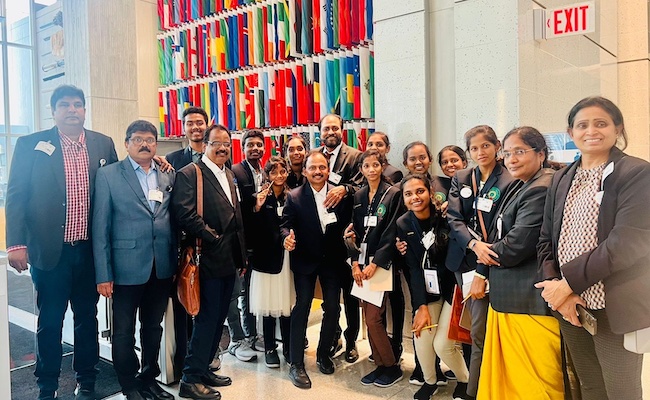 The Andhra Pradesh government school delegation comprising 10 students, 2 teachers and 2 senior officials including Mr B Srinivasa Rao (IAS), State Project Director, Samagra Siksha along with Rathnakar pandugayala. AP state Govt Rep continue to do the state and the nation proud in United States of America!
Their latest outing was none other than the World Bank at Washington DC, where they were invited for an informal lunch followed by an elaborate session on Education & Health, with leading world bank officials including Ms Rifat Hasan, Lead Health Specialist, Ms Tracy Wilichowski, World Bank Analyst and Ms Laura Gregory, Senior Education Specialist.
At the onset of the engagement, the World Bank lauded all the initiatives taken by CM Jagan in the field of education including AmmaVodi, Nadu-Nedu and the introduction of English and the usage of bilingual textbooks. The World Bank expressed their deep desire to get more involved in YSRCP government's objective to invest in human capital.
Later, the World Bank officials asked Andhra Pradesh government school students to throw in ideas of how this engagement can be more effective in the future.
This is what the kids proposed
1) A program designed specifically to sensitise the parent community to prioritise and encourage education
2) Set up a common online platform for students across the world to exchange ideas and discuss topics like climate change, sustainable development
3) Kickstart numerous exchange programmes with top foreign universities
4) Introduction of activity clubs in government schools (environment/culture)
5) Introduce model United Nations concept and hold state level competitions on the same.