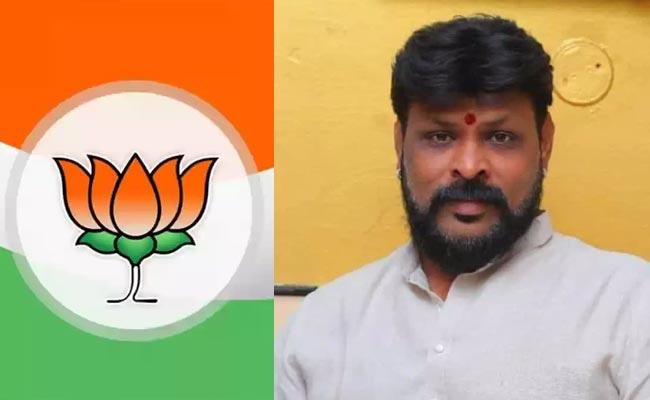 Notorious casino organiser Chikoti Praveen is fretting and fuming at the Telangana Bharatiya Janata Party leadership who refused to entertain him after promising to admit him into the party.
Chikoti Praveen, a notorious figure known for his association with gambling and casinos, had planned to join the BJP on Tuesday with a massive rally.
Several prominent leaders, including Union Minister and State BJP President G. Kishan Reddy, were expected to be present. However, just before his arrival, Kishan Reddy had to leave for another event.
But when came to the state BJP office at Nampally in a big rally from Karmanghat, where he prayed at the temple of Lord Hanuman, none of the BJP leaders, including Kishan Reddy was present to receive him. He had to return dejected.
Speaking to reporters, Chikoti Praveen said there was some miscommunication between him and the senior leaders of the Telangana BJP.
"I was told no leaders are present in the office as they were busy with some programme. I will discuss this with the national-level leaders and plan a future course of action. The BJP party will win the forthcoming assembly elections in the state," Praveen said.
However, on Wednesday, he released a video message saying some forces in the party are scared of him and they are stalling his entry.
"These forces can't do anything with me. I am challenging these people who are doing dirty politics. I cannot do back-stabbing politics. You play your politics. I shall do mine," he said.
Apparently, several BJP leaders, particularly corporators of the L B Nagar area, strongly opposed Chikoti's entry into the party. Even the national BJP leadership, particularly party observer of Telangana Prakash Javadekar, also rejected his proposal to join the party.
Even Kishan Reddy is not keen on having Praveen join the party, owing to latter's reputation. While Karimnagar MP and the party's national general secretary Bandi Sanjay is more interested in having him on board.
Sources informed that Praveen is eyeing a ticket from LB Nagar after joining BJP. In recent pictures, going viral on social media, Praveen is seen greeting several national leaders of the saffron party, including Bandi Sanjay.
Praveen was booked by the Gajwel police in July for taking out a rally in violation of prohibitory orders which was hit by communal tensions. He took out a rally to pay tribute to Maratha ruler Shivaji after a man had allegedly defiled his statue.
Also, Praveen was caught in Thailand during a raid on a casino along with several others. He was later deported to India. Praveen later clarified that he had just gone to the hotel on an invitation, and he was not aware of the gambling there.
Chatrinaka police in Hyderabad booked him during Bonalu in July, 2023, for employing private security guards with illegal weapons. Shortly after the case was filed, he obtained bail from the court in the case.
Recently, Praveen extended a financial assistance of Rs 1 lakh to the family of home guard Ravinder, who immolated himself over the pending salary.