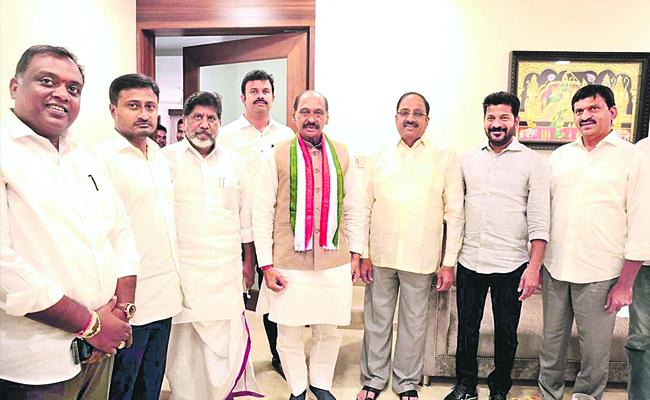 As expected, senior leader from Khammam and former minister Tummala Nageshwar Rao resigned from the Bharat Rashtra Samithi on Friday. He is all set to join the Congress by evening.
Tummala sent a two-sentence resignation letter to BRS president and Telangana chief minister K Chandrasekhar Rao, thanking the latter for the cooperation all these days and requesting him to accept his resignation.
The former minister, who had held a series of meetings with the Congress leaders in the last few days, would go to Taj Krishna in the evening and meet top national leaders including Sonia Gandhi, Rahul Gandhi, Priyanka Gandhi and AICC president Mallikarjun Kharge, to formally join the party.
It is speculated that the Congress might field Tummala from his native Palair assembly constituency in Khammam district in the upcoming assembly elections in Telangana.
This puts question mark on the fate of YSR Telangana Party president Y S Sharmila, who is also seriously trying to get into the Congress by merging her party and contest from Palair assembly seat.
Sharmila had several rounds of talks with the senior Congress leaders including Karnataka deputy chief minister D K Shivkumar, AICC general secretary K C Venugopal and Mallikarjun Kharge, besides Sonia Gandhi and Rahul Gandhi.
She declared that the talks were held in a constructive way and that she would take a decision soon on the merger of her party with the Congress. But for some strange reasons this has not been happening.
On Friday, too, Sharmila held talks with Shivkumar and discussed the merger issues. But she was told that her entry into the Telangana Congress might jeopardise the part prospects and so, it would be better she focused her attention on Andhra, where the party is weak.
So, uncertainty prevails on Sharmila's entry into the Telangana Congress. Though there is a talk that she might also come to Taj Krishna to formally join the party on Friday evening, there has been no such indication from the party for now.
If Tummala is assured of the assembly ticket from Palair, then Shamila will have to give up her attempts to enter Telangana Congress. Even if she joins, she would have to do so unconditionally!