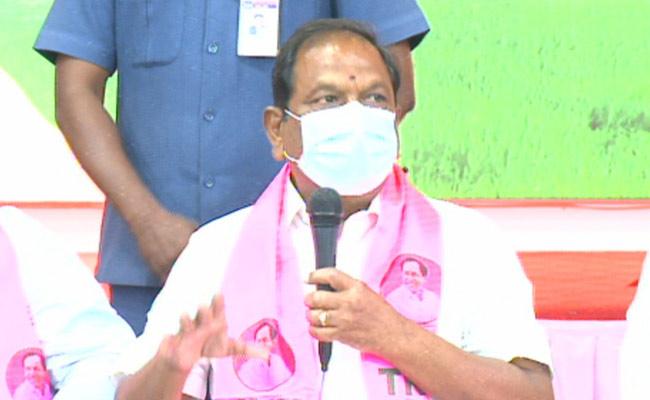 As expected, the Telangana Rashtra Samithi leadership unleashed an all-round attack on sacked minister Eatala Rajender who has questioned party boss and chief minister K Chandrasekhar Rao for targeting him personally.
After keeping mum for a couple of days, waiting for Eatala to make some serious comments against KCR, TRS leaders from erstwhile combined Karimnagar district – Koppula Eshwar, Gangula Kamalakar and state planning board vice chairman B Vinod Kumar came down heavily on the former minister on Tuesday.
They said Eatala had made no big sacrifices for the Telangana movement or the TRS or the people of the state.
"In fact, he was one of the biggest beneficiaries of the TRS in the last 18 years. He was given all important positions in the party, including party floor leader in the state assembly. But he misused them for his personal gains," Koppula said.
He wondered why Eatala had been unhappy with the TRS in the last four years, despite enjoying very big positions, while many others had been sincerely working for the party without expecting any benefits.
"He himself has admitted that he had bought assigned lands for his business activities, though no individual is allowed to buy assigned lands, except the government," the minister said.
Another minister Gangula Kamalakar said Eatala was a tiger in the disguise of a goat.
"He is a big Dora in the garb of a BC leader. He has no stature to criticize KCR. During his stint in the government, he had never encouraged BCs and never allowed them to grow politically in his constituency. In fact, he is a fake Mudiraj," he said.
Stating that Eatala was imagining himself as too big a leader in the party, Kamalakar alleged that the former had been more friendly with the opposition party leaders rather than the TRS leaders in his constituency.
"He felt happy when the party suffered losses," the minister said.
The TRS leaders vowed to strengthen the party in Huzurabad though Eatala would be removed from the party.
"It is unfortunate that Eatala is making allegations against KCR who gave him a political life," they said.
Click Here for Latest Direct-to-OTT Releases (List Updates Daily)