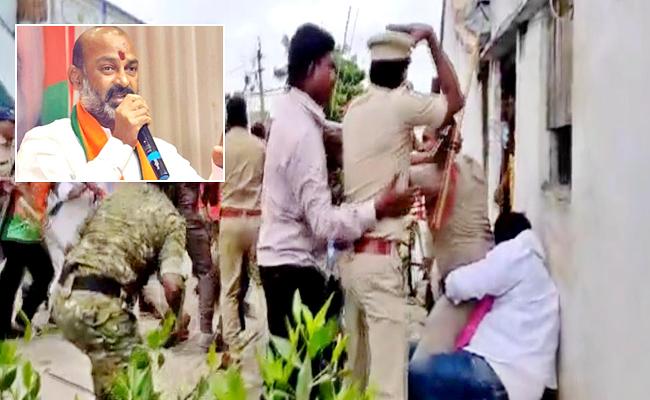 Several Bharatiya Janata Party workers sustained serious injuries when Telangana Rashtra Samithi activists pelted stones at the Azadi Ka Amrut Mahotsav programme organised by the party at Devaruppula village of Jangaon district on Monday.
According to BJP spokesman N V Subhas, two workers were injured in the melee when supporters of TRS minister Errabelli Dayakar Rao pelted stones who wanted to disturb the yatra.
The incident happened when BJP president Bandi Sanjay hoisted national flag in Devaruppala village when TRS supporters indulged in a clash with BJP activists who are in yatra.
Meanwhile TRS workers suddenly resorted to stone pelting injuring two BJP workers who were rushed to a local hospital, Subhash said and demanding police to take action immediately and arrest the TRS workers involved in the clashes.
Subhash alleged that the police had turned a blind eye to the TRS activists' attacks on the BJP meeting, but resorted to lathi-charge on the BJP workers who tried to repulse the TRS attack. Though there were intelligence reports about the possible attack by the TRS goondas, they did not take any precautionary measures, he said.
Expressing anger at Jangaon commissioner of police, Telangana BJP president Bandi Sanjay Kumar accused him of behaving like a TRS activist rather than being a police official.
"If you can't control the law and order, better the police commissioner sit at home," Sanjay said.
He spoke to Director General of Police M Mahender Reddy and lodged a complaint with him over the incident. He wondered what the police were doing when the TRS goondas were causing head injuries to the BJP workers.
"Are the police getting their monthly salaries from the pockets of chief minister K Chandrasekhar Rao? He will be in power only for six months. The DGP should ensure that the padayatra continued peacefully. If such attacks are repeated, the police would be held responsible for any repercussions," Sanjay warned.
He said the DGP should respond immediately and take action against the police officials responsible for the lathi-charge.
"Otherwise, we shall bring the injured BKP workers and stage a dharna at the BJP office," he said.
He requested the BJP workers not to get provoked by the TRS attacks.
"Let us receive the stones pelted by them as flowers. Let us continue our padayatra and understand their issues," he added.