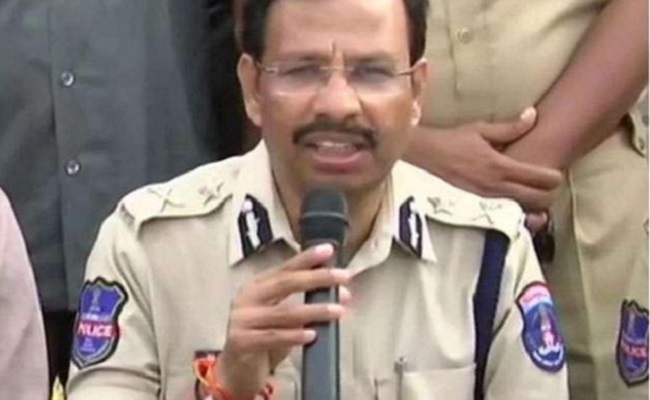 Cyberabad police commissioner V C Sajjannar is known for his tough and upright character.
He has a lot of following among the common people, especially youth, for his ruthless stand towards criminals.
He received a lot of appreciation from the citizens for the encounter-killing of four youth involved in alleged rape and murder of Disha, a veterinary doctor, at Shamshabad last year.
At a time when political leaders generally to do not dare make any comments on the integrity of Sajjannar, Bharatiya Janata Party MLA from Goshamahal T Raja Singh made wild allegations against him stating that he was encouraging illegal trafficking of cows.
Singh, who caught a truck red-handed at Shamshabad, while transporting cows from Maharashtra to Bahadurpura, alleged that some Telangana police officials themselves were hand in glove with cow smugglers.
He particularly targeted Cyberabad police and demanded that Director General of Police Mahender Reddy take action against the erring cops.
"If the authorities do not respond, we will be forced to take law into our hands," he warned.
Sajjannar reacted strongly to the BJP MLA's comments. He said it had become fashion for the MLA to make wild allegations against the police and the DGP.
"They are issuing statements at their will, targeting the police without any basis," he said.
The commissioner warned of legal action against Raja Singh for his unsavoury comments against the police.
"We shall not keep quiet if the BJP leaders make statements hurting the morality of the police. If they talk at their will, they will have to face criminal cases," he warned.