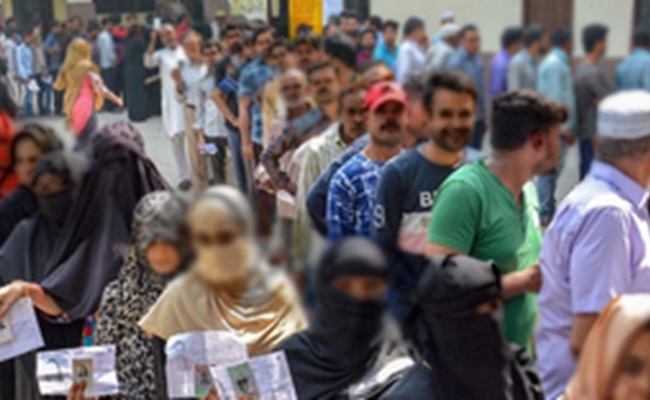 Bharat Rashtra Samithi (BRS) and the Congress party in Telangana are going all out to woo Muslim voters, who are considered a key factor in 40 out of the 119 Assembly constituencies.
With less than 10 days to go for the polling, all eyes are on Muslims, who constitute nearly 13 per cent of the state's 3.26 crore voters.
The BRS, which is aiming for a hat-trick in power, is confident that Muslim voters will once again back it while a resurgent Congress is expecting a repeat of Karnataka, where Muslims played a key role in bringing Congress to power.
However, some political analysts believe that Muslim votes may get divided between BRS and Congress.
They say the situation in Karnataka can't be compared with Telangana as neighbouring state under BJP's rule was pushing forward Hindutva agenda with ban on Hijab and controversies like Halal and Love Jihad. Moreover, there was no alternative for Muslims in Karnataka.
Ever since the formation of Telangana state in 2014, it is ruled by BRS, which has a secular image and the state under its rule has been free from any major communal riot or issues like mob lynching, Hijab or Halal.
The BRS is pinning its hopes on its friendly party Majlis-e-Ittehadul Muslimeen (MIM), a dominant player in Hyderabad politics and which has considerable influence among the community in the rest of the state.
Asaduddin Owaisi-led party is contesting nine seats, including the seven it holds, while in the remaining constituencies it is backing its friendly party BRS.
Barring seven seats which MIM has been winning since 2009, Congress has given tickets to only two Muslim candidates while sitting MLA Mohammed Shakil Aamir is its lone Muslim candidate.
Muslim United Forum, comprising some Muslim socio-religious groups considered close to MIM, has also declared support to BRS. However, some other groups like Jamiatul Ulema and Tehreek-e-Muslim Shabban have come out in support of the Congress party. There are some other groups who have not taken a clear stand.
The BRS, during its poll campaign, is highlighting maintenance of peace and communal harmony as a major achievement to seek the support of Muslims
While addressing election rallies with good concentration of Muslim voters, Chief Minister KCR and his son and BRS working president KTR are speaking in Urdu to explain how their party is maintaining 'Ganga Jamuni Tehzeeb'.
The BRS leaders are also cautioning people that power to Congress may push the state back into the era of communal clashes and curfews.
The BRS also claims to have spent Rs 12,780 crore on minority welfare in 10 years. It says the minority welfare budget which was Rs 1,030 crore in 2014-15 increased to Rs 2,200 crore in 2023-24.
The ruling party also claims to have implemented a number of measures for educational development of minorities, mainly establishment of residential schools and colleges. It says that 1.31 lakh minority students are studying in 409 residential schools and colleges. It has promised that if it retains power, 204 residential junior colleges will be upgraded to residential degree colleges.
Another measure which BRS is showcasing in its campaign is financial support of Rs 1.16 lakh for marriage of poor minority girls under the scheme 'Shadi Mubarak'.
However, the allegation by the Congress party that there is secret understanding among BJP, BRS and MIM may impact the opinion in some sections of the community.
Congress leaders Rahul Gandhi and Priyanka Gandhi Vadra have been targeting MIM for helping BJP by fielding its candidates in states where the Congress is locked in direct fight with the BJP. They questioned why MIM is contesting only nine seats in Telangana.
State Congress chief A. Revanth Reddy is also slamming MIM for fielding a Muslim candidate in Jubilee Hills constituency to divide Muslim votes and defeat former Indian cricket captain Mohammed Azharuddin, who is contesting on Congress ticket.
The Congress leaders also say that BRS is only paying 'lip sympathy' for minorities. "BRS has done nothing concrete for the development of minorities. What happened to its promise of increasing minority reservation to 12 per cent," asked senior Congress leader and former minister Mohammed Ali Shabbir, who is contesting election from Nizamabad Urban constituency.
He recalled that it was during Congress party's rule that backward Muslims were provided four per cent reservations and this has helped thousands of Muslim boys and girls to become doctors and engineers.
The Congress leaders also say the BRS government is not spending 60 per cent of the minority budget. They also say the KCR government failed to provide jobs to minorities and provide houses for the poor.
The Congress has announced 'minority declaration' to woo minority voters. It promised that if voted to power it will ensure fair reservation for all backward classes, including minorities in jobs, education and government welfare schemes.
It promised to increase the minority budget to Rs 4,000 crore. The Congress has assured that it will provide Rs 1,000 crore annually to facilitate subsidized loans for jobless minority youth and women.
Whether Muslim voters continue to back BRS or switch their support to Congress for a change of guard remains a million-dollar question.