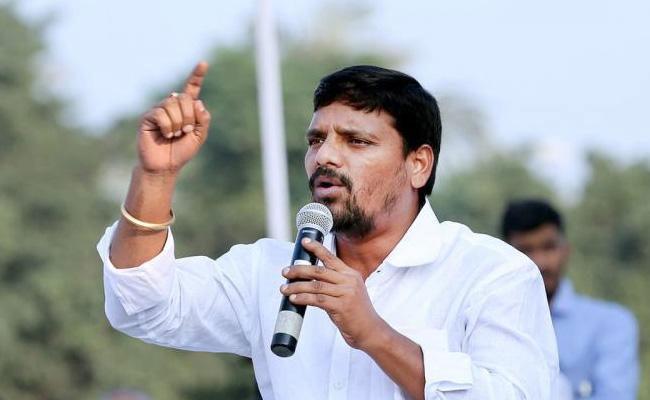 Popular social activist-cum-journalist Chintapandu Naveen Kumar alias Teenmaar Mallanna, who had been in jail for over a month in connection with various cases slapped on him, joined the Bharatiya Janata Party in the presence of BJP in-charge of Telangana affairs Tarun Chugh in New Delhi on Tuesday.
Chugh offered him party scarf and handed a membership receipt to Mallanna, formally admitting him into the party.
On this occasion, Mallanna made aggressive comments against Telangana Rashtra Samithi president and chief minister K Chandrasekhar Rao and his family members.
"This is not a membership receipt but a 15 metres-long rope. I till tie KCR, his son K T Rama Rao, daughter Kavitha and nephew Harish Rao to the Telangana Martyrs Memorial with this rope. I will lash them with a whip in public by inviting the parents of the Telangana martyrs," Mallanna said.
Describing KCR as the biggest cheater in the world, Teenmaar Mallanna said he was the only one who had raised his voice against KCR in the beginning.
"Now, many such voices have come out. They will not rest till KCR is pulled down from power," he said.
The BJP leader said the government had foisted 38 cases against him, but had not achieved anything.
"Even the police who arrested me were feeling bad; so were the judges, as the cases were all fake. Now, all those who had taken part in the Telangana movement were coming together and we shall all fight against KCR," he said.
BJP state president Bandi Sanjay said the party would stand by all those who question the autocratic rule of the TRS.
"Mallanna has been fighting against the devilish dynastic rule of KCR," he said.