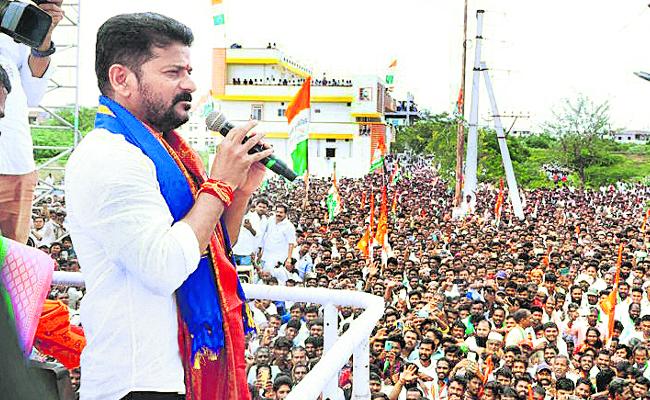 Telangana Congress President A. Revanth Reddy on Sunday mocked the BJP over its BC for Chief Minister promise by asking how a party whose candidates will not even save deposits can make such a promise.
He was reacting to BJP's election manifesto in which it promised that if voted to power it will make a leader from the backward classes as the chief minister.
Revanth Reddy also wondered how a party which is not ready to conduct the Backward Caste census can make a BC the chief minister. "People are not ready to believe what they are promising," said Revanth Reddy while addressing 'Meet the press' programme in Hyderabad.
The Telangana Pradesh Congress Committee (TPCC) chief recalled that BJP candidates forfeited deposits in 105 out of 119 constituencies. He predicted that this time BJP candidates will lose deposit in 110 constituencies.
He pointed out that BJP is in power in 10 states but there is only one OBC chief minister.
Revanth Reddy also criticised Prime Minister Narendra Modi over the announcement to constitute a committee on SC sub-categorisation in reservations. He asked what his government was doing on the demand for the last 10 years.
At a public meeting organised by Madiga Reservation Porata Samithi (MRPS) in Hyderabad on November 11, the Prime Minister had announced that a committee will be constituted to explore all options for the empowerment of Madigas.
The Congress leader said the BJP will forget the promise after the elections.
Revanth Reddy also slammed Bharat Rashtra Samithi (BRS) over the power issue. He reiterated the challenge to the BRS government to prove that farmers in the state were being supplied 24-hour power.
Reddy claimed Congress was the first party to supply free electricity to farmers.
He said once Congress comes to power, Praja Darbar will be held at the State Secretariat to hear people's grievances.