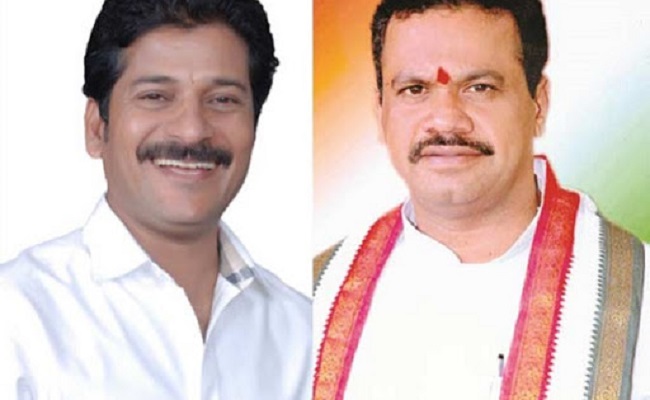 Everybody knows it is more or less certain that senior Congress leader and Lok Sabha member from Bhongir Komatireddy Venkat Reddy will quit the party and join the Bharatiya Janata Party sooner or later.
It is pretty evident that Venkat Reddy is only trying to find excuses to get out of the party.
It was only on Friday he had declared that he won't campaign for the Congress in the ensuing by-elections to Munugode assembly seat in Nalgonda district, where his younger brother Komatireddy Rajagopal Reddy will be contesting on the BJP ticket.
On Saturday, the Bhongir MP continued his tirade against Pradesh Congress Committee president A Revanth Reddy, saying a senior leader like him won't work under a person who had changed the party four times.
He also expressed anger at the other party leaders saying they are not inviting him to the strategy meetings on Munugode.
Revanth knows that Venkat Reddy won't stay in the party for long, but if he remains silent, the MP would only raise his voice further and that will confuse the cadre in Munugode.
So, he has decided to corner Venkat Reddy and throw the ball into his court.
That is why, Revanth tendered an open apology to Venkat Reddy. Taking responsibility for the abusive comments made by another party leader Addanki Dayakar against Venkat Reddy during the recent meeting at Munugode, the PCC chief said on behalf of the entire party, he was apologising to the MP.
"Venkat Reddy garu has felt very bad at the language used by Dayakar. He demanded that I, as the PCC chief, should apologise for the same. So, I am tendering my apology," he said.
Revanth further said Venkat Reddy played a very instrumental role in the Telangana movement and was one of the key players in getting the statehood to Telangana.
"So, anybody talking bad about him is not correct. I have asked the PCC chief disciplinary committee to take action against Dayakar," he said.
Not only that, the PCC chief also made Dayakar to say "sorry" to Venkat Reddy openly.
Dayakar also issued a statement saying he wholeheartedly regretted making such comments against the MP and was taking back his words, besides apologising to the latter.
Obviously, Revanth has sent a message to the party cadre across the state in general and Munugode in particular that there is no mistake on his part and pushed the onus on Venkat Reddy now whether to remain in the party or quit.
Thus, he gave clear indication that he won't be held responsible, if the MP quits the party.
Cornered by this development, Venkat Reddy sought to turn the tables on the PCC chief.
He said there was no question of accepting Revanth's apology. He is now demanding that Dayakar should be suspended, if the party wants his help in the by-elections.