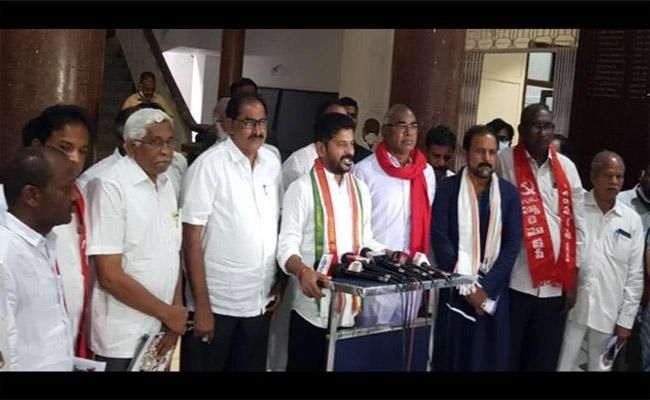 Telangana Pradesh Congress Committee president and Malkajgiri MP A Revanth Reddy on Wednesday gave a call to the people of the state for an "Aakhari Poratam" (final battle) to achieve a Telangana which guarantees transparency, social justice and self-rule.
Revanth was addressing the Maha Dharna at Dharna Chowk near Indira Park jointly organized by all opposition parties on Wednesday to protest against the rising inflation, tribals's podu lands issue and anti-people policies of the TRS government in the state and the BJP government at the Centre.
Eminent leaders and thousands of activists belonging to Congress, CPI, CPI (M), TDP, TJS, CPI-ML, Inti Party and New Democracy participated in the dharna.
Revanth Reddy said although the geographical Telangana has been achieved, the people of Telangana did not get social justice and self-rule.
He alleged that the TRS Government was preventing the tribals from exercising their right to cultivation on podu lands, which they had been doing for decades.
Following public movements by the Left and other parties, the then Congress-led UPA Government introduced the Scheduled Tribes and Other Traditional Forest Dwellers (Recognition of Forest Rights) Act, 2006 to grant cultivation rights to the tribals.
"However, the TRS Government was canceling those Pattas and such lands were illegally being acquired in the name of Haritha Haram or projects like Mallanna Sagar or Pharma City," he said.
He said Telangana was formed for the benefit of 4 crore people. But only four members of KCR family have enslaved the 'Telangana Talli' and it needs to be liberated with an 'Aakhari Poratam'. This brutal regime is not even sparing the small children and sending them to jail," he said.
The PCC chief slammed Prime Minister Narender Modi and Home Minister Amit Shah for being mute spectators to the irregularities, corruption, scams and misrule of the KCR government. He said both BJP and TRS Govts were responsible for the rising inflation.
"The cost of petrol and diesel have crossed Rs. 100 per litre almost in all places. Although the actual price must be around Rs. 35, including the transportation, the BJP-TRS Govts were collecting nearly Rs. 65 towards taxes while burdening the common man," he said.

The TPCC Chief appealed to the people to support the Bharat Bandh on 27th September. He said nearly 20 opposition parties, under the leadership of Congress president Sonia Gandhi, have come together to protest against the anti-people policies of BJP government.
All sections of the society must support the Bharat Bandh to convey a strong message that they won't tolerate the burden being imposed upon them by the BJP government further, he said.