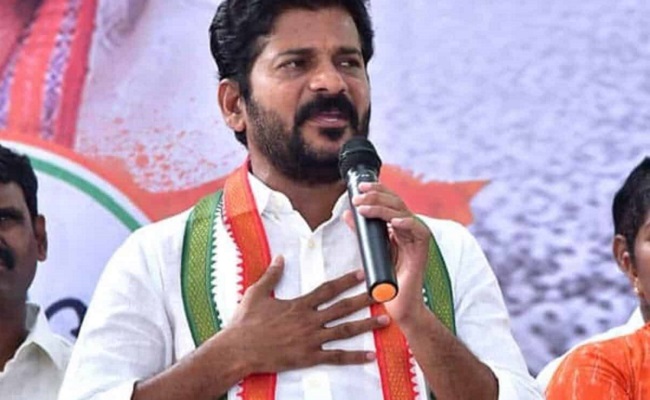 Soon after taking over as the president of Telangana Pradesh Congress Committee (TPCC) last week, Congress MP from Malkajgiri A Revanth Reddy, has given a "Ghar Wapsi" (Return to your home) call to all those ex-Congress leaders who defected to the other parties in the past for various reasons.
However, the 12 Congress MLAs who defected to the Telangana Rashtra Samithi shot back at the new PCC chief president.
What is worse, another senior Congress leader Padi Kaushik Reddy on Monday quit the party and is all set to join the Telangana Rashtra Samithi.
Surprisingly, Revanth's call appears to be getting good response from not from the ex-Congress leaders, but from those in other parties.
On Tuesday, Bharatiya Janata Party's Mahabubnagar district unit president Erra Sekhar resigned from the party and returned to the Congress in the presence of Revanth Reddy.
Sekhar was originally in the Telugu Desam Party and represented Jadcherla constituency in the state assembly.
He was also the TDP president of Mahabubnagar district. After the bifurcation, he defected to the BJP.
He has considerable hold in Jadcherla and hence, his entry would help the Congress party to a large extent.
Another leader who defected to the Congress on Tuesday was Gandra Satyanarayana Rao from Bhulapalli constituency in Jayashankar Bhupalpalli district.
He was in the TDP initially, but later defected to the TRS. Now, he has quit the TRS and joined the Congress, after meeting Revanth.
Similarly, former Mayor of Nizamabad Dharmapuri Sanjay, elder brother of Nizamabad MP Dharmapuri Aravaind, also quit the BJP and joined the Congress in the presence of Revanth.
This can be called a "ghar wapsi" as Sanjay was in the Congress in the past when his father D Srinivas was the PCC chief.
Needless to say, all the three leaders who defected to the Congress, announced that they were feeling relaxed in joining the Congress which is more democratic party than the BJP or the TRS.