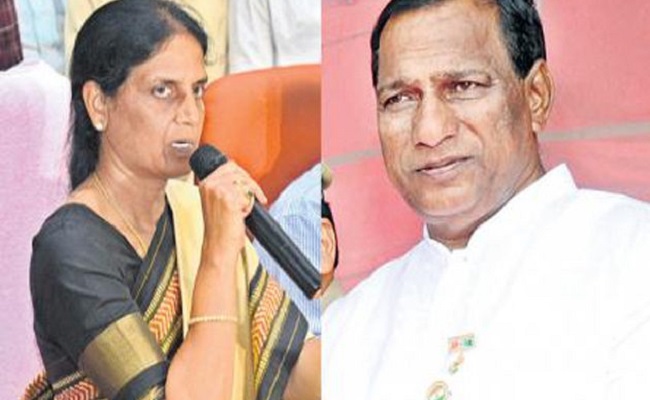 Telangana ministers Sabitha Indra Reddy and Ch Malla Reddy are reportedly engaged in a political tussle to secure BRS tickets for their wards.
It is learned that Sabitha is advocating for her son Karthik Reddy, while Malla Reddy is advocating for his son-in-law Marri Rajashekar Reddy.
Recently, Karthik Reddy has increased his political activities and is making all efforts to gain favor with KCR and KTR in order to secure either an Assembly ticket or a Lok Sabha ticket in the upcoming Assembly polls.
On Wednesday, Karthik Reddy issued a full-page advertisement in Namasthe Telangana, the newspaper owned by KCR's family, thanking Chief Minister K. Chandrashekar Rao and IT Minister K.T. Rama Rao for establishing the Foxconn manufacturing unit in Kongarakalan on the outskirts of the city, for which the foundation was laid by KTR on May 15.
Reportedly, Karthik Reddy wants to contest either from the Malkajgiri Lok Sabha seat or the Medchal Assembly seat, which is considered a political stronghold of Minister Malla Reddy.
Malla Reddy's son-in-law contested on a BRS ticket from Malkajgiri in the 2019 Lok Sabha election but lost to TPCC chief A. Revanth Reddy by a slight margin.
Malla Reddy won the Medchal Assembly seat in 2018 and became a minister. However, surveys commissioned by KCR reportedly found Malla Reddy's performance to be poor, with no chance of winning the seat again. As a result, KCR is said to be considering alternative candidates for the Medchal Assembly seat, and Karthik Reddy has set his sights on this seat.
Minister Sabitha and her son Karthik's moves to secure either the Malkajgiri Lok Sabha seat or the Medchal Assembly seat this time are strongly opposed by Malla Reddy and his son-in-law Rajashekar Reddy.
Malla Reddy is increasing pressure on the party leadership to retain the Medchal Assembly ticket for himself and allocate the Malkajgiri Lok Sabha seat to his son-in-law.
Both ministers are attempting to gain the upper hand over each other by engineering defections within their respective groups.