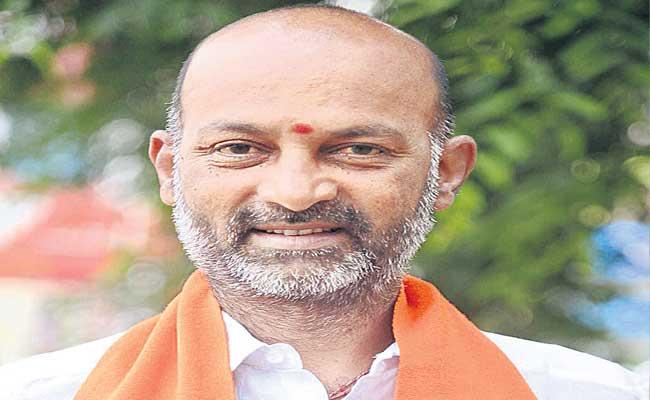 The first public meeting of the Bharat Rashtra Samithi held at Khammam on Wednesday reminds one of an utter flop show of the pre-release function of a film, Telangana Bharatiya Janata Party president Bandi Sanjay Kumar said on Thursday.
Speaking to media persons in New Delhi, Sanjay said the BRS leaders desperately made a futile attempt to mobilise crowds by paying them money and intimidating many others and show it as a grand success.
He alleged that KCR had managed to bring the so-called national leaders by paying them money looted through liquor scam.
"Yet, no leader who comes to KCR once will not like to entertain him again. Former Karnataka chief minister Kumara Swamy hasn't come to see him again. So did Bihar chief minister Nitish Kumar. Those who attended Khammam meeting will not be visible again," he said.
Sanjay charged KCR with taking the three chief ministers to Yadadri temple only to show how he is doing business with the temple. In fact, one of them did not even enter the temple.
"With his self-boasting move, KCR had shown a virtual hell to the pilgrims and common people passing through the route," he criticised.
The BJP state president also pointed out that KCR used to refer to countries like Sri Lanka, Bangladesh and Pakistan in terms of hunger index in an attempt to degrade India.
"Now, he is not taking their names, because these countries are now begging for money and food. He has later started taking about China with regard to development; now it is struggling to overcome the Coronavirus pandemic. It clearly shows KCR's words turn out to be a bad omen for any country which he says is progressing. I request him not to say any good word about India, because his words become a curse for the country," he said.
Sanjay reminded that nobody had spoken about Ab Ki Baar Kisan Sarkar slogan. While KCR said the BRS would come to power at the Centre, Kejriwal said Aam Admi Party would come to power.
"It is unfortunate that the Telangana chief minister did not even raise Jai Telangana slogan at Khammam meeting," he said.