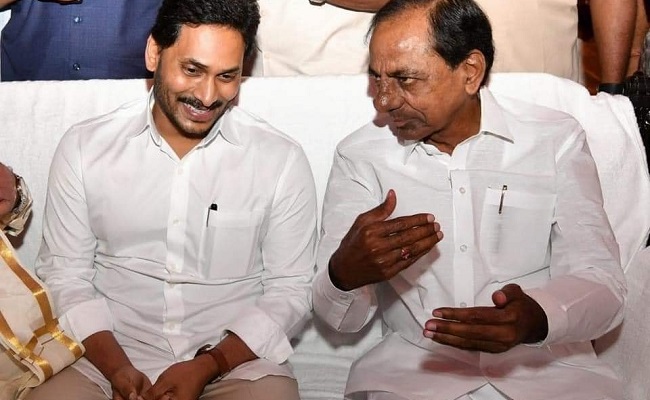 Telangana Rashtra Samithi president and chief minister K Chandrasekhar Rao will be going to Vijayawada in October, after a gap of nearly three years, but he won't be meeting his Andhra Pradesh counterpart Y S Jagan Mohan Reddy.
He will be attending the national council meetings of the Communist Party of India (CPI) to be held at Vijayawada between October 14 and 16.
The meetings would be attended by, apart from KCR, chief ministers of Kerala, Bihar and other non-BJP ruled states, besides Communist party leaders from 20 countries.
KCR and the chief ministers have been invited to attend the last day of the CPI national council meetings on October 16, when a big public meeting would be held at Vijayawada. The CPI leaders have already contacted the chief ministers to extend personal invitations.
It is learnt after the public meeting, the CPI national leaders would also hold meetings with the CMs' of non-BJP states to discuss the national politics and find a solution to form a national alternative to the BJP.
This will be the first time after a gap of three years that KCR will be going to Vijayawada.
The last time that he had visited the city was in 2019, to invite chief minister Y S Jagan Mohan Reddy to attend the inauguration of Kaleshwaram lift irrigation scheme in Jayashankar Bhupalpalli district.
The TRS sources said KCR might not call on Jagan during his visit to Vijayawada.
The Andhra CM, too, might not be interested in meeting KCR, as the latter was coming to attend a non-BJP CM's meeting and Jagan doesn't want to give any scope for misunderstanding with the BJP national leadership.