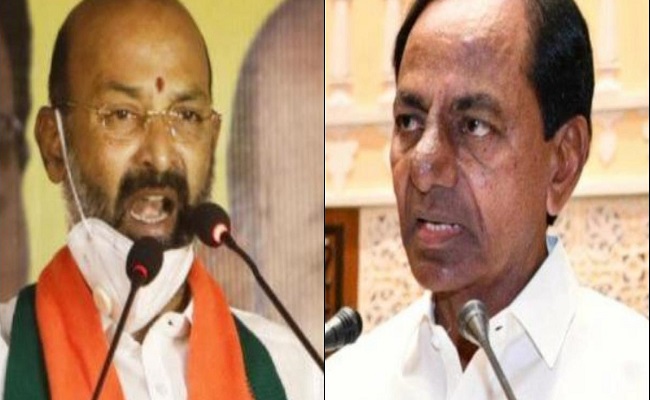 Telangana Bharatiya Janata Party president Bandi Sanjay on Monday alleged that Telangana Rashtra Samithi president and chief minister K Chandrasekhar Rao had been touring different states not to float a third front of various opposition parties, but a "liquor front" by entering into a secret deal with those parties.
Sanjay said KCR had toured Delhi, Punjab and West Bengal only to form a syndicate with liquor mafia with which his family had close connections.
"He has entered into secret deals with drug mafia in Punjab to expand its network in Telangana and in return, to expand the liquor mafia of Telangana to Punja, Delhi and West Bengal states," he alleged.
Stating that Ramachandra Pillai, Sharath, Srujan Reddy and Abhishek whose names had surfaced during the CBI investigation were actually benamis of KCR family, the BJP state president said the central investigation agency would soon expose the shady deals of the family.
Sanjay alleged that the Telangana chief minister had been going to different states regularly only to get contracts to his family members from liquor syndicates.
"In Telangana, the excise revenue has gone up from Rs 4,000 crore to Rs 30,000 crore. The TRS leaders are there in every scam, right from drugs to liquor," he said.
He demanded that KCR should answer whether his family members had met liquor mafia in Oberoi Hotel in New Delhi; whether they had gone to New Delhi in the special flight arranged by Ramachandra Pillai and whether they had any relationship with the names that surfaced in Delhi liquor mafia.
He alleged that during the KCR regime, liquor was flowing like water with every village flourishing with 10 belt shops, wine shops and bars.
"These leaders make liquor in Telangana and sell it in Punjab and bring drugs from Punjab to market in Telangana," he said.
Sanjay further alleged that even Congress leaders had a share in the Delhi liquor scam and the leaders of the TRS and the Congress were hand in glove in the liquor trade.