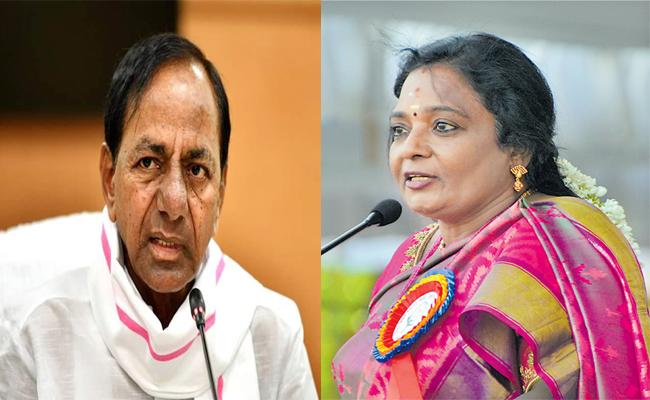 The confrontation between Telangana chief minister K Chandrasekhar Rao and Governor Tamilisai Soundarrajan, which has been going on for the last two years, has once again come to the fore with the state government denying her the opportunity for inspecting a ceremonial Republic Day parade at Secunderabad on January 26.
It has been customary protocol that the Governor of any state will inspect the ceremonial parade and take the guard of honour on the Republic Day every year, while the chief minister does it on the Independence Day.
However, last year, the Governor has been asked to restrict the flag hoisting and other rituals on the Republic Day only to Raj Bhavan in the name of Covid-19 restrictions because of the Omicron scare, though there were no such restrictions in other states, because of the Azadi Ka Amrut Mahotsav year.
Yet, Tamilisai had to restrict the Republic Day celebrations to Raj Bhavan and none of the ministers, let alone the chief minister, attended the event.
However, on August 15, the chief minister K Chandrasekhar Rao celebrated the Independence Day in a grand manner at the Golkonda Fort, which was attended by thousands of people.
Now this year, when there are no such restrictions across the country for Covid-19, the Telangana government once again communicated to the Governor, asking her to restrict the Republic Day fete to Raj Bhavan because of Covid-19 restrictions.
Apparently, Tamilisai wondered why the government was imposing restructions and denying her the protocol.
"How can the government do that? When there are no such Covid-19 restrictions for KCR's public meeting at Khammam, which was attended by five lakh people, why should there be such restrictions for Republic Day parade," the Governor reportedly asked.
Similarly, the Governor was also denied the protocol of addressing the joint session of the state legislative assembly and council on the commencement of the budget session commencing on February 3.
It was evident from the way, the assembly secretariat issued a notification on Saturday, saying the fourth meeting of the eighth session of the state assembly, which was adjourned on October 8, 2021. So, it is a continuation of the old session. Obviously, this is to avoid the Governor's address, sources said.