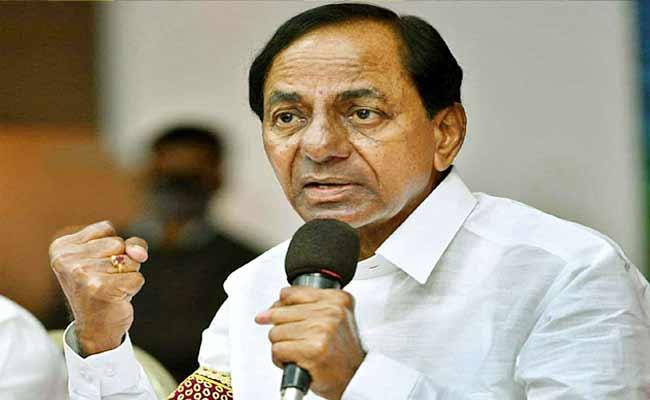 The ruling Bharat Rashtra Samithi (BRS) in Telangana continues to acquire valuable lands in Hyderabad at dirt-cheap rates.
In a blatant misuse of power, BRS president and Chief Minister K. Chandrashekar Rao allotted 11 acres of expensive land in Kokatpet, Hyderabad, to BRS for just Rs 37.53 crore.
Shockingly, this decision was approved during the first cabinet meeting held at the new Telangana Secretariat on Thursday, May 18. However, the BRS government kept this decision a 'top secret'.
Finance Minister T Harish Rao, who briefed the media on cabinet meeting decisions along with a few more ministers, also failed to disclose the land allotment in Kokapet.
When HMDA auctioned government lands in Kokapet last year, each acre fetched Rs 60 crore in the bidding process.
Considering this price, the 11-acre land parcel allotted to BRS would be valued at Rs 660 crore. Even if an average price of Rs 50 crore per acre is considered, the 11 acres should cost Rs 550 crore. However, the KCR government allocated the land to its own party for just Rs 37.53 crore.
The BRS had applied to the state government requesting land for the establishment of the Institute of Excellence and Human Resource Development, which would focus on training and developing public leaders, activists, and academics.
The Telangana cabinet approved the BRS's request and issued a Government Order (GO) allocating 11 acres in Kokapet. However, the GO has been kept secret and not made public.
Surprisingly, the BRS submitted the application on May 12, and within a week, it was approved by the cabinet at an astonishing speed.
Acquiring valuable lands at dirt-cheap rates in Hyderabad and other districts is nothing new for the BRS.
In 2018, during a Telangana cabinet meeting chaired by CM KCR, it was decided to allot one acre of land in all 33 districts of the state at a rate of just Rs 100 per square yard. BRS offices were built in 32 districts, excluding Hyderabad.
In Hyderabad, BRS already owns a large office, Telangana Bhavan, in the expensive Jubilee Hills area. Despite this, the BRS submitted an application to the government requesting land for the establishment of a BRS district office in Hyderabad, claiming that the existing office in Jubilee Hills served as the party's state office.
In response, CM KCR sanctioned a plot of 4,935 square yards (a little over one acre) worth over Rs 100 crore at market rates, but the party was only charged Rs 100 per square yard.
The market rate for an acre in the posh Banjara Hills area is nearly Rs 2.50 lakh. This allocation was made in May 2022 for the purpose of setting up a BRS district office in Hyderabad.