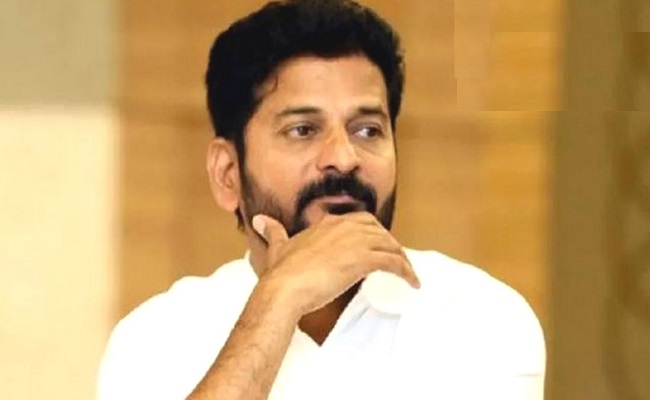 Seniors in the Telangana Congress, who have been seething with anger over the appointment of a junior and a defector like A Revanth Reddy as the Pradesh Congress Committee chief, have now found a reason to attack him from all sides.
The humiliating show by the Congress in the by-election to Huzurabad assembly seat has definitely put Revanth Reddy on the back foot.
At the end of the 13th round, Congress candidate Balmuru Venkat could get just 1800-odd votes out of the total votes of 1.10 lakh votes counted till then.
Till the last assembly elections, the Congress party was in the second position. In 2018, it could get over 60,000 votes. Now, the party is likely to end up with just around 2,500 votes and is set to lose its deposit.
It makes one wonder whether the Congress doesn't have even 2,000 party workers in the constituency, where it stood No. 2 till last elections.
Obviously, the blame has fallen on Revanth Reddy, who dodged till the last moment on the selection of the right candidate for Huzurabad.
There are allegations that he was hand in glove with BJP candidate Eatala Rajender and sabotaged the Congress prospects.
"We have not fought the elections seriously, fearing that it would split the anti-establishment votes. Instead, our people supported Eatala, believing that he is the right candidate to defeat the TRS. We have the strong cadre in Huzurabad, but we failed to motivate them. We did not hold even a single meeting till the notification was issued," senior Congress leader and Bhongir MP Komatireddy Venkat Reddy said.
Another senior leader Ponnam Prabhakar also said coverts like Kaushik Reddy damaged the party from within in Huzurabad. But Revanth failed to undo the damage, he said.
Another firebrand Congress leader and PCC working president T Jagga Reddy also accused Revanth and Bhatti Vikramarka of making NSUI president Balmuri Venkat as the scapegoat in Huzurabad.
"If Venkat gets deposit, Revanth would claim credit; but if he loses it, he would blame it on seniors for non-cooperation," Jagga Reddy criticised.