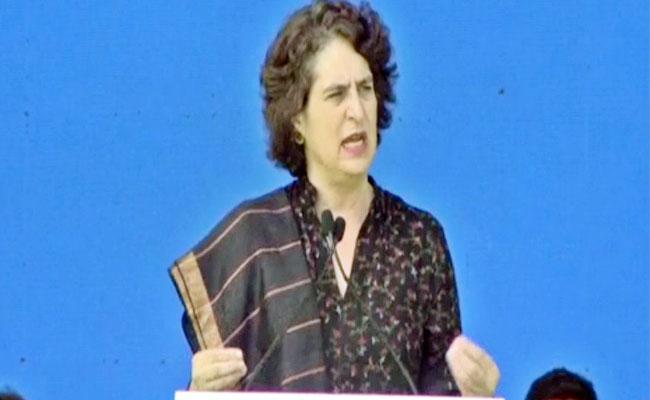 Targeting BRS, BJP and MIM for allegedly working together, Congress leader Priyanka Gandhi said that they are doing 'Naatu Naatu'.
She mentioned the Oscar winning song from blockbuster 'RRR' while launching an attack on the three parties for alleged secret understanding among them.
"BRS, BJP and MIM are together doing Naatu Naatu. Watch them dance but don't vote for them," she told people while addressing a public meeting at Asifabad in Komaram Bheem Asifabad district as part of the Congress campaign for Telangana Assembly polls.
She said that Prime Minister Narendra Modi who uses Central agencies against Congress leaders was not using them to investigate scams in Telangana though thousands of crores of public money was looted.
The Congress general secretary alleged that BRS is supporting the Modi government at the Centre.
"They have a third brother," she remarked, targeting MIM. She said that Owaisi's party contested election 40 seats, 50 seats and 90 seats in other states but it is contesting only nine seats in Telangana because he wants KCR to win.
Priyanka Gandhi, who also addressed another public meeting at Khanapur in Adilabad district, slammed Chief Minister K. Chandrasekhar Rao for what she called failing to fulfil the aspirations of people of Telangana in the last 10 years and urged people not to give him another chance.
She said that KCR speaks about what the Congress government in Karnataka is doing or not doing but he never speaks about what he has done for the people of Telangana for the last 10 years.
She said after coming to power the Congress will provide jobs to two lakh people. A government job each will be given to families of those who laid down their lives for Telangana state.
It's shameful that farmers are committing suicides in Telangana. She said the policies of the Central government resulted in price rise and there is GST on petrol, diesel, tractor and other items.
"Farmers are unable to earn from agriculture. Farmers are still happy in Congress-ruled states. In Chhattisgarh, the income of people has increased and those who had migrated are returning. We want the income of Telangana farmers to increase," she said, adding that the Congress is giving guarantee of MSP for various crops.
She alleged that KCR failed to fulfill promises like farm loan waiver, distribution of lands, jobs for the youth and unemployment allowance.
Stating that question paper leaks in recruitment exams dashed hopes of lakhs of unemployed youth, she promised that if Congress is voted to power, the job calendar will be released with date for each exam and result.