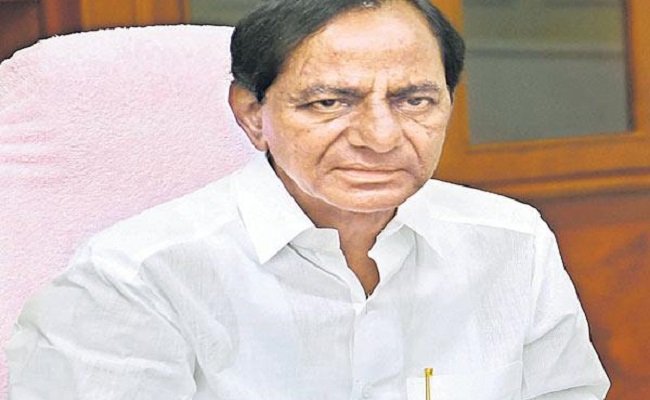 Even as the alleged attempt by some persons claimed to be agents of the Bharatiya Janata Party to poach four Telangana Rashtra Samithi MLAs is still rocking the state politics, TRS president and chief minister K Chandrasekhar Rao on Tuesday made yet another sensational revelation.
Addressing a joint meeting of the TRS legislature party, parliamentary party and state executive at Telangana Bhavan, KCR referred to the alleged poaching of the TRS legislators by the BJP to expand its base.
"What is atrocious is that the BJP leaders even tried to poach my own daughter Kalvakuntla Kavitha. They sent feelers to her asking her to defect to the BJP. It clearly shows to what extent the BJP and the Central government are going to destabilise the TRS government in the state," he said.
Calling upon the party legislators to be wary of the attempts by the BJP to lure them into their party, the TRS chief asked them not to surrender themselves to the saffron party, even if they are threatened with foisting cases by the CBI or Enforcement Directorate.
"From now on, the BJP will intensify its activity and make strong attacks on the TRS and the state government. We have declared a war on the BJP and so, the TRS leaders should be very cautious. Don't go into controversial issues and give scope for the BJP to trouble you," he said.
The chief minister also told them not to get scared of the ED or CBI raids.
"We don't need to spare them. Wherever there are CBI or ED raids, we should revolt and chase them away. Take up dharnas and agitations wherever they conduct raids," he told them.
KCR also gave complete clarity on the next elections.
"There is no question of going in for early elections. We shall go as per the schedule and so, there is still 10 more months to go. Let us all begin the preparations for the elections in the right earnest," he said.
The TRS chief asked the MLAs and MPs to be available to the people in their respective constituencies and take care of their needs.
"At any cost, we should come back to power and we shall not give any chance to the BJP," he said.
He also announced that all the sitting MLAs would get the party tickets and so, there is no need for any apprehensions. He asked them to go into the people and win back their confidence.