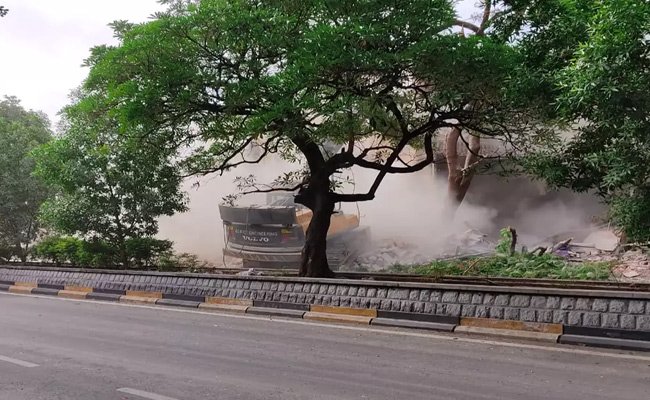 The demolition of Telangana secretariat buildings that began on Tuesday had been taken up suddenly and swiftly, till the high court stalled the works on technical grounds on Friday.
But the entire demolition exercise has been kept a completely non-transparent affair. All the roads in and around the secretariat complex have been sealed and traffic has been diverted.
Not a single soul is being allowed near the demolition site; not even media persons who wanted to picturise the entire demolition exercise. All the closed-circuit cameras in and around the secretariat have been closed.
The electronic media persons had to climb the adjacent high-rise buildings to take some shots, but they are not very clear.
Even the workers are not being allowed to carry their mobile phones inside. A couple of police constables who tried to capture the demolition works in the Secretariat complex were suspended and attached to the head office. Even the demolition of two mosques and a temple inside was kept a complete secret.
This has definitely surprised everybody as to why the government is maintaining so much secrecy about the demolition. It has led to several speculations and rumours in the social media and also in some political circles.
According to one such rumour, there is some hidden treasure of gold and silver beneath the Nalla Pochamma temple and also the Saifabad Palace (G Block) within the Secretariat premises and the ruling party bosses were told about the same.
That could be the reason why the buildings are being razed to the ground in a secretive manner so that any treasure that is found could be clandestinely shifted to the treasuries of the bosses.
Nobody knows how much truth is there in these rumours, but the talk has definitely generated a lot of curiosity!
CLICK HERE!! For the In Depth Updates on all the OTT Content