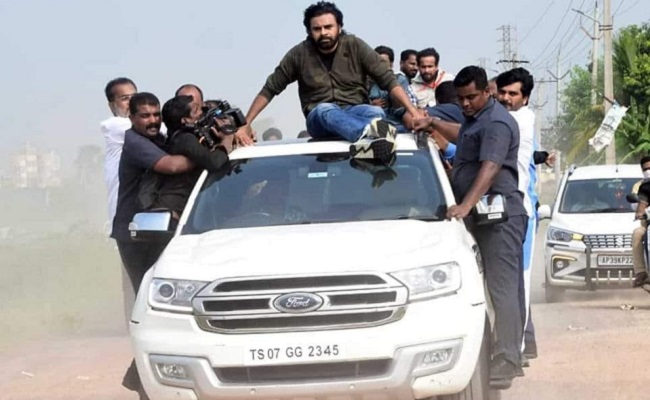 Pawan Kalyan should open his eyes at least now. If he already knows what he is doing, then the Janasainiks should understand how their party and leader are used by TDP for wrongdoings.
Pawan and his people should have understood why he was sent all the way to Vizag and Ippatam for doing political dramas when Chandrababu and Lokesh can go all by themselves. When they sense any risk to their political image, they use Pawan Kalyan as a handglove. The glove gets burned but the TDP's hand stays safe.
It is known that the villagers of Ippatam village in Guntur district had to pay a heavy penalty for moving the high court alleging illegal demolition of their houses by Mangalagiri Municipality a few days ago.
On Thursday, the high court came down heavily on the petitioners in the case of houses being demolished without notice.
While the villagers earlier said they had not received any notices, the government pleader had previously stated that notices had been served before demolition and provided proof.
Out of 14 petitioners, 11 were present in the court. The petitioners admitted that they had received notices but they were not aware of the contents and that it was not further informed to their advocate.
The judge responded with a serious tone, stating that the facts were suppressed. The petitioners misled the court and got an interim Order which cannot be entertained.
The judge also warned Advocate T Sai Surya that the court cannot entertain such type of practice, and it is his duty also to verify the details.
Later, a fine was imposed at the cost of Rs 1 Lakh to each petitioner for misleading the court and further directed that the amount should be paid to the Legal Services Authority and disposed of the matter without taking any contempt proceedings against the petitioners.
It may be mentioned that Jana Sena chief Pawan Kalyan created a big drama by travelling on the top of his SUV from Mangalagiri to the village to call on the people who lost their houses.
He alleged that the houses were demolished only because they attended his public meeting in big numbers.
The Jana Sena chief also promised to distribute Rs 1 lakh each to them in a couple of days. Prompted by his support, the villagers moved the high court and obtained the stay orders on further demolitions, claiming that the municipal authorities were demolishing their houses for road widening without giving them prior notice.
Will Pawan Kalyan pay this amount to the petitioners now? He said that he would give Rs 1 lakh to the people who are losing their property in the development activity.
Well, if he gives that amount, these poor petitioners can pay their penalty to the Legal Services Authority. Pawan Kalyan is believing in the wolf covered in sheep's skin and foolishly becoming its prey.
Lakshmi Kanth S