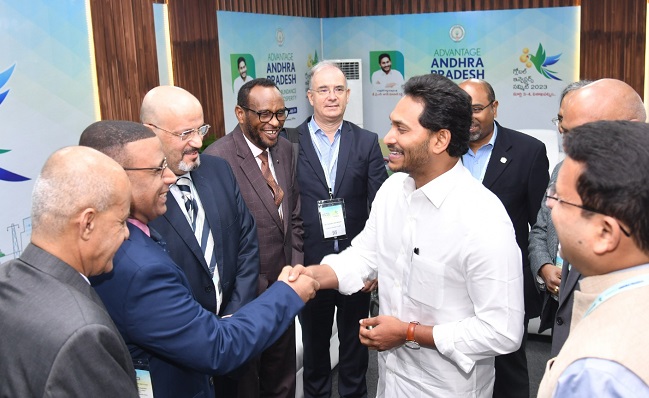 Chandrababu Naidu is a leader who relies heavily on the perception game. He presents his plans on paper and receives significant coverage on his supportive media. This media portrays CBN as a statesman of unparalleled ability. However, in reality, little comes to fruition. CBN takes credit for any developments that occur over time, regardless of his involvement. The phrase "much ado about nothing" seems fitting when describing CBN's actions.
One might question how this could be possible, considering he managed to bring both Bill Gates and Bill Clinton to the state of AP in his regime. It is not uncommon for a CM to extend invitations to individuals via a formal process, and if those individuals have room in their schedules, they may accept. In fact, KTR himself invited Satya Nadella and engaged in numerous video calls with Bill Gates. There is nothing specific to boast about when it comes to CBN and his supposed monopoly in bringing in international delegates to Hyderabad.
However, ultimately, what matters is the outcome that is achieved.
Chandrababu Naidu has a tendency to make exaggerated claims about his achievements. He often boasts about his role in introducing mobile phones to AP, as well as his involvement in Hi Tec City (which was actually initiated by Nedurumalli Janaradana Reddy), and the Outer Ring Road (which was actually YSR's vision). Additionally, he has taken credit for being the driving force behind the work-from-home culture, and even goes as far as to refer to himself as the father of all NRIs residing in the USA and earning dollars.
In contrast to Chandrababu Naidu, Jagan Mohan Reddy is a man of action rather than mere words. In 2019, he initiated a plan to attract investments to the state, and by 2023, those investments had slowly materialized. The task of bringing in Rs. 13 lakh crore of investments to AP was no easy feat, and the entire nation took notice of the state's success. This achievement was unprecedented in the history of AP and reflects Jagan's strong leadership.
Jagan Mohan Reddy has established a track record of success in business, exemplified by his ventures in Bharati Cement and Power Projects of Sakshi media. On the other hand, CBN has shown himself to be an unreliable businessman. Despite his claims of ownership of Heritage, he actually took over the business by forcibly removing his partners once he gained power as CM. He has a reputation for being averse to sharing his fortune with others, and even Mohan Babu, his former partner, has lamented about this issue. CBN's backstabbing tendencies are well-known in both political and business circles.
The Vizag Summit organized by Jagan Mohan Reddy has attracted almost all of India's major business figures.
Jagan Mohan Reddy has a diverse vision and mission. Unlike his predecessor, he is not solely focused on the IT sector. Instead, he seeks to encourage long-term benefits for the state by attracting investments in the production sector. He recognizes that while IT is a lucrative sector, it is limited in the amount of land it requires compared to production units. Therefore, Jagan's ideology is to allocate land to industries that can benefit the state in the long run.
While Chandrababu Naidu is known for backstabbing both in politics and business, Jagan Mohan Reddy has garnered the trust of big businessmen across India. His Vizag Summit attracted a diverse group of investors, and he has successfully brought in large investments to the state.
When Jagan Mohan Reddy assumed office in 2019, he first focused on stabilizing the state before prioritizing welfare schemes. Opposition parties criticized him for not bringing in investments to the state, but the success of the Rs. 13 lakh crore investments has silenced their doubts.
Kiran Sharma