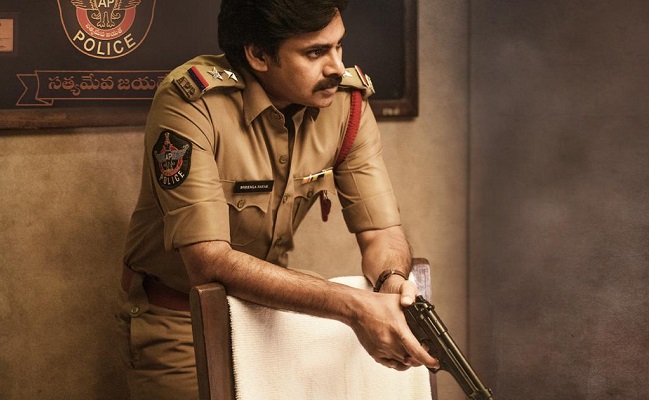 'Bheemla Nayak' is indeed captivating for majority audience and we can find some interesting political tidbits if the dots are connected.
SCENE- 1
Pawan Kalyan as Bheemla Nayak says in a conversation with Daniel Shekhar in the bus, "Md Ghazni attempted to conquer 17 times but was defeated. Do you know who defeated him? We talk only about Ghazni because he was never afraid of battles. He was not bothered about victory or defeat. I am also the same".
This directly implies to his political career where he conveys that he keeps on contesting in elections irrespective of the result.
SCENE-2
Coming to the other key scene where the entire police station gets shivered seeing a contact number with KCR's name in Daniel Shekhar's mobile.
The scene happens in Andhra Pradesh. Why do the AP police constables get afraid hearing the name of the Chief Minister of some other state? Technically it should be the name of Jagan Mohan Reddy. Since Pawan Kalyan loves to maintain rivalry with Jagan Mohan Reddy he conveniently avoided that name, replaced it with KCR and sacrificed the logic for his ego's sake.
SCENE- 3
The last scene between Rana and Pawan Kalyan also has some political flavor.
It is known how Pawan Kalyan criticised TRS party 7 years ago and warned KCR with his regular expression, "thaata teesthaa".
To this KCR replied at that time, "Who is that film actor to give warning to me? If I give a signal Pawan Kalyan will break into 1000 pieces".
But now Pawan Kalyan had a truce with KCR's family and wanted to demonstrate that to the public. So, out of the blue he invited KTR to the pre-release event of the film as Chief Guest.
Now coming to the dialogue Daniel Shekhar shakes Bheemla Nayak's hand and apparently says, "I behaved badly at that time in inebriated condition".
To this Bheemla Nayak responds, "I reacted at that time with audacity".
We can replace the names KCR and Pawan in real life with the same dialogue.
Well, in this scene Pawan Kalyan appears as Telangana Police all of a sudden. Technically an Andhra SI cannot become an SI in Telangana State on transfer. What Pawan Kalyan wants to imply with this logic-less scene can be known only to him.
Kiran Sharma