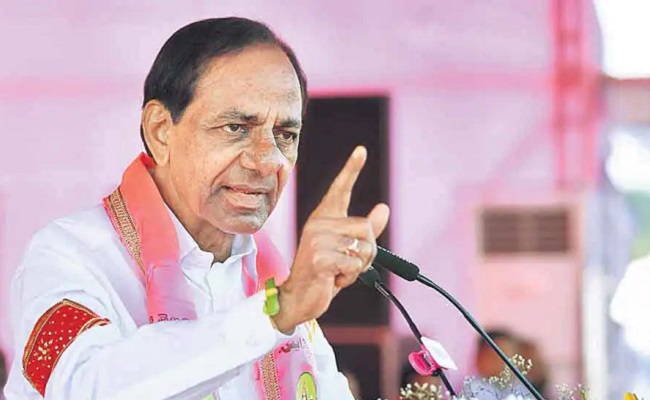 It is now more or less official that Telangana Rashtra Samithi president and chief minister K Chandrasekhar Rao will announce the launch of the national party on October 5, coinciding with Vijaya Dasami festival.
A leak to this effect was given to select media houses on Wednesday night, stating that the announcement will be made by KCR exactly at 1.19 pm, after the TRS legislature party and state executive committee of the party pass a resolution on the formation of a national party.
According to the party sources, all the top leaders of the party, including MPs, MLAs, MLCs and senior state-level leaders, were asked to come to Telangana Bhavan on that day for the crucial announcement by KCR.
Sources also said hoardings had been booked by the TRS all over Telangana well in advance, welcoming the announcement of the party by KCR.
There is also a talk that front page jacket advertisements have also been booked in all the major dailies in all the states on that day.
After announcing the party at the meeting, KCR will announce its name, which will be most probably Bharata Rashtriya Samithi (BRS) unless he has something else in his mind. He will also announce national coordinators of the TRS at the same meeting.
However, what is bothering the minds of the party leaders is whether KCR will continue the TRS till the next assembly elections or disband it once the national party is launched. There is a talk that he might merge the TRS with the BRS to avoid confusion.
If that is the case, one wonders whether KCR will have the same pink flag and get the same election symbol "car," as it is the prerogative of the Election Commission of India to decide.
Sources, however, said KCR will take a call on the merger of TRS with the BRS only after ensuring that he will get the same symbol and flag.
Another question is how KCR would face the forthcoming by-election to Munugode – whether it is on behalf of the BRS or the TRS.
"In all probability, KCR might retain the TRS till the next assembly elections, but would fight the elections in other states in the name of the BRS," sources added.