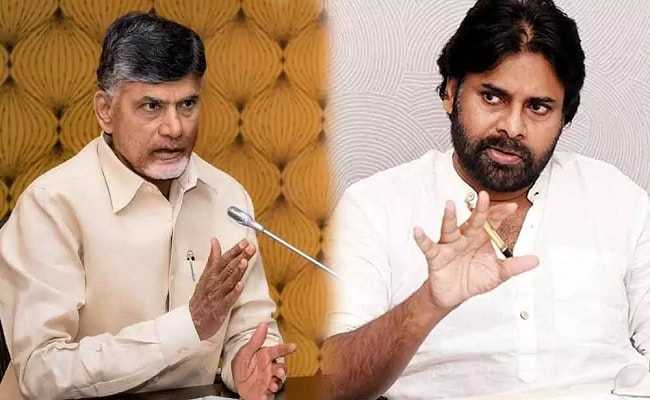 The comments made by Andhra Jyothy managing director Vemuri Radhakrishna in his latest column in the daily has created some sort of disgruntlement in the Jana Sena Party led by power star Pawan Kalyan.
Radhakrishna has written that Bharat Rashtra Samithi president and Telangana chief minister K Chandrasekhar Rao had offered Rs 1,000 crore to Pawan Kalyan to drop his plan to have an alliance with the Telugu Desam Party.
Apparently, KCR made the offer to lure the Kapu votes for BRS in AP and Telangana and also to help YSR Congress party indirectly, the report said.
It is an open secret that Radhakrishna is an out-and-out Telugu Desam Party supporter and a close confidant of TDP chief N Chandrababu Naidu. He would have definitely not written the article without such a talk doing rounds in the TDP.
Though Pawan refrained from making any comments on Radhakrishna's column, his brother and Jana Sena Party leader Nagababu reacted strongly.
He said it was unfortunate that some newspapers have become the mouthpieces of political parties, instead of adopting an impartial stand.
"It is left to their wisdom and discretion. But at least before writing any article against anybody, they should have used their sense. What can we say about such newspapers and channels which cook up gossips and wrong news? There may be some political leaders who might get suffocated with such malicious news, but here, there is Pawan Kalyan, who is like a fireball," he said.
Nagababu said Pawan Kalyan has the capacity to fight for another 25 years, whereas these newspaper heads have no such patience.
"Just because he lost elections, one cannot expect him to be behind the bars. How long do you make such silly charges like accepting package? Do you have the guts to make such allegations against the two parties?" he asked.
He said the Jana Sena Party chief and his party cadre were committed to serving the people and they were patiently tolerating all the insults hurled at them.
"But the day is not far off when the people of the state will teach a fitting lesson to all you," he warned.