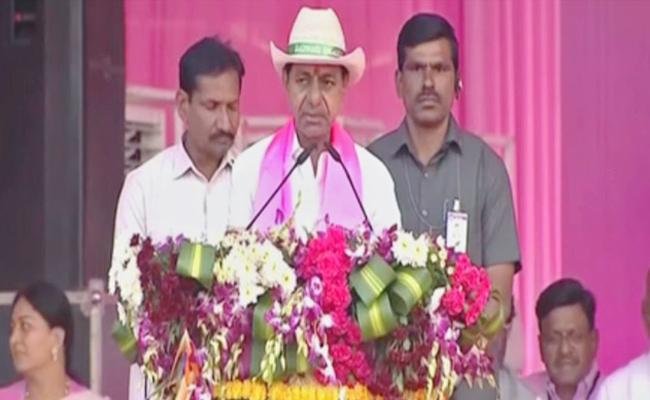 The public meeting organised by Bharat Rashtra Samithi led by Telangana chief minister K Chandrasekhar Rao was a big show in terms of turnout and the euphoria it had generated in the media.
Though KCR did not announce his party's national political agenda at the public meeting as leaked by his party leaders earlier, he tried to give the meeting a national outlook by calling three chief ministers and leaders of the Left parties.
Surprisingly, KCR invited leaders of only a select few national leaders, though he had met with several other opposition party leaders in the country who had been fighting against the BJP.
There is no invitation to Janata Dal (U) president and Bihar chief minister Nitish Kumar, Rashtriya Janata Dal leader Tejaswi Yadav, Nationalist Congress Party chief Sharad Pawar, former Maharashtra chief minister Uddhav Thackeray, DMK chief M K Stalin and Jharkhand chief minister Hemant Soren.
The reason is obvious. All these leaders have been pitching for the Congress to be part of the opposition alliance to fight against the BJP. Since the Congress is also an enemy of KCR, he did not invite them.
Similarly, he also did not invite other non-BJP and non-Congress parties like Mamata Banerjee from West Bengal and Naveen Patnaik from Odisha, with whom KCR had talks in the past, as they have stopped entertaining KCR long ago.
Surprisingly, even Janata Dal (S) leader H D Kumaraswamy from Karnataka, who had been regularly coming to Hyderabad to meet KCR and had been associated with the BRS right from the beginning was also conspicuous by his absence.
It is not immediately known whether Kumaraswamy was invited or avoided. But sources said the JD (S) leader was ignored by KCR, as he got indications that Kumaraswamy might enter into an understanding with the Congress in the ensuing Karnataka assembly elections.
Though KCR had earlier planned to have an alliance with the JD (S), he is now in second thoughts. So, he avoided Kumaraswamy for the Khammam meeting.
Interestingly, even senior actor Prakash Raj, who happens to be hardcore sympathiser of KCR, was also nowhere to be seen in Khammam meeting. Sources said KCR did not invite the actor, as he doesn't want the people attention to get diverted from him to the actor.
So, that is KCR!