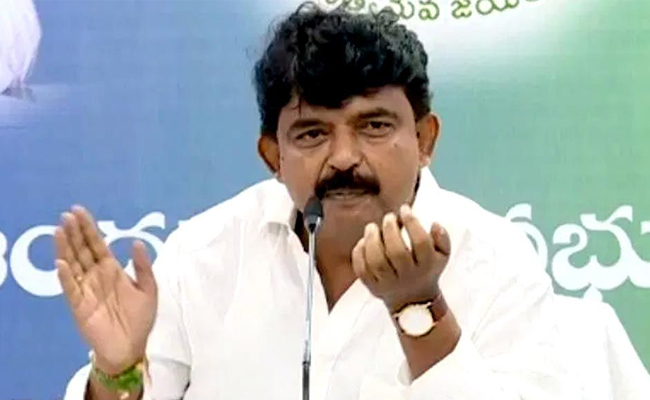 The statement issued by YSR Congress party leader and Andhra Pradesh state minister for information and public relations Perni Venkatramaiah alias Nani that the ruling party or the state government had no interest in or had any relations with the ongoing elections to the Movie Artistes Association (MAA), led to a hush talk in the film circles.
Everybody knows MAA is an independent body comprising a few hundred people connected with the Telugu film industry. It has no connection whatsoever with the Telangana government or Andhra Pradesh government or for that matter any political party.
There is no reason why any political party or the government spokesman should make any statement, saying they have no connection with the MAA elections.
So, when Nani made the statement saying YSRC had no connections with the MAA elections, it naturally surprised everybody.
Apparently, Nani thought that the people in the film industry are under the impression that YSRC president and Andhra Pradesh chief minister Y S Jagan Mohan Reddy might be indirectly interfering in the MAA elections, because Manchu Vishnu, the front runner in the elections, is closely related to him.
So, it led to the talk that Vishnu has the strong backing of Jagan. At the same time, there is also a campaign in the social media that Jagan has conveyed to the film industry that Vishnu panel should be elected in the MAA elections at any cost and in case Vishnu is defeated, the AP government would not concede the requests of the film industry for higher cinema ticket rates and others.
Maybe, Nani issued the statement only to put an end to this campaign urgently, lest it damages the reputation of the Jagan government.
But there is also another talk in the industry circles. Though Vishnu is related to the chief minister, Nani has close relations with Megastar Chiranjeevi's camp and is a great fan of the family. Since Prakash Raj, another strong contender in MAA elections, has the backing of the mega family, Nani wants him to win.
But he knows that though YSRC is not officially supporting Vishnu, everybody knows that he is related to Jagan and for that reason, Vishnu might get a good number of votes in the elections. But if YSRC makes a statement disassociating itself with the MAA elections, these voters might tilt towards Prakash Raj.
So, as part of the mega strategy, the minister might have made the statement that YSRC has no interest in MAA elections. Interestingly, Chiranjeevi, too, has not been working for Prakash Raj openly, but everybody in the industry knows the latter has the strong backing of the mega family.
Click Here for Latest Direct-to-OTT Releases (List Updates Daily)