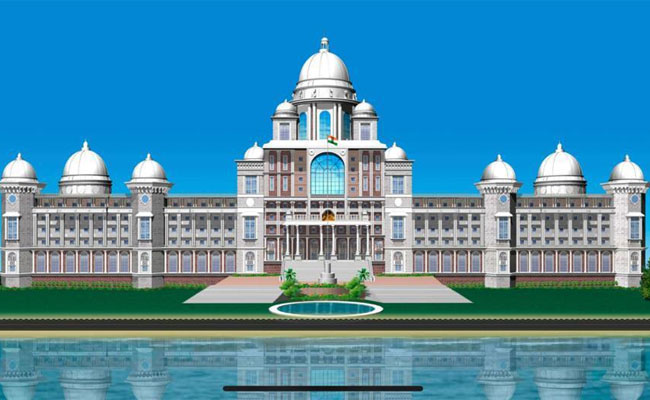 As expected, the Telangana government started the exercise for the construction of new swanky state secretariat complex, a week after getting the state high court giving green signal for the same.
The demolition of the existing secretariat buildings began in the early hours of Tuesday creating a chaotic situation in the city traffic in and around Saifabad and Khairatabad.
The first building to be razed was that of C-block, also known as Samatha block, which housed several chief ministers including N T Rama Rao, N Chandrababu Naidu, Y S Rajasekhar Reddy, K Rosaiah and N Kiran Kumar Reddy. The demolition of all the blocks is expected to be completed in a week or two.
The authorities concerned announced a holiday for the employees of the State Secretariat which is temporarily accommodated in the BRKR Bhavan in the close vicinity of the old Secretariat.
The demolition works are in full swing using heavy machinery, with dense dust engulfing the entire area.
The construction of the new complex is expected to commence during the auspicious month of Sravanam.
Telangana chief minister K Chandrashekhar Rao is learnt to have approved the design for the new Secretariat complex. The new secretariat which would come up in about four lakh sq-ft would cost around Rs 400 crore.
While the design for the new complex was finalised by noted architect Hafeez Contractor as per the vasthu suggested by CM's personal advisor Suddala Sudhakar Teja, the contractor who would take up the construction has not yet been finalised.
Sources said in all probability, the work might be handed over to a popular construction major from Telangana, whose promoter is very close to KCR.
In fact, the design also resembles that of a palace in the south Telangana, whose owner's family also is said to be closer to the chief minister.
Watch out for more developments.
CLICK HERE!! For the In Depth Updates on all the OTT Content