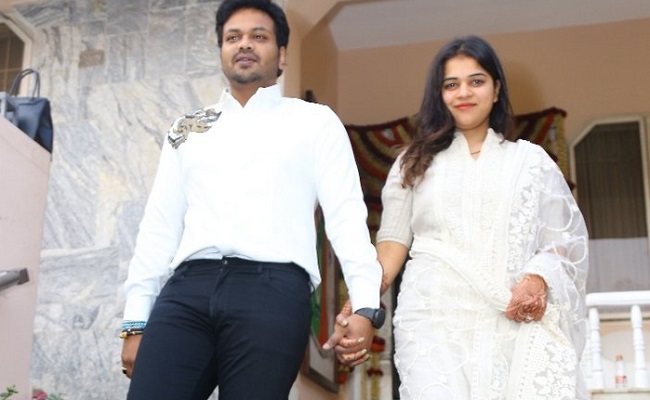 Actor Manchu Manoj, younger son of veteran actor Manchu Mohan Babu, has begun his second innings of his life by marrying Bhuma Mounika Reddy, sister of former Andhra Pradesh minister Bhuma Akhila Priya.
Both of them had the blessings of their respective families; and so, it was a smooth affair. The couple had a darshan of Lord Venkateshwara in Tirumala, before beginning their married life.
So far so good. But Mounika has political ambitions. Having been from the politically strong Bhuma family – late Bhuma Nagi Reddy and Shobha Nagi Reddy – from Allagadda in Nandyal district, Mounika had campaigned for her sister Akhila who contested on Telugu Desam Party ticket in the last elections.
It is learnt Mounika has conveyed to Manoj much before the wedding that she would be active in politics and given a chance, she would contest the next assembly elections from one of the constituencies in Nandyal district.
While Akhila is keen on trying her luck from Allagadda, Mounika is said to be eyeing Nandyal assembly constituency. Both the constituencies are now represented by the YSR Congress party.
Speaking on Mounika's political ambitions, Manoj said he would extend support to her in whatever decision she would take. He, however, clarified that he had no interest in politics, but was interested in doing service to people in a different way.
"If Mounika wants to become active in politics, my support will always be there. I will stand by her in fulfilling her ambitions," he said.
By saying so, Manoj has given an indication that he will campaign for Mounika if she contests the next elections. But the question is whether he will support the TDP, if the latter gives the ticket to Mounika.
Manoj's father Mohan Babu and elder brother Vishnu had supported the YSR Congress party in the last elections. In fact, Vishnu is a close relative of YSRC president and chief minister Y S Jagan Mohan Reddy.
Though Mohan Babu and Vishnu are now keeping away from YSRC politics, they would definitely not campaign for the TDP. So, it would be interesting whether Manoj would go against their wishes or go by the wishes of his wife Mounika.