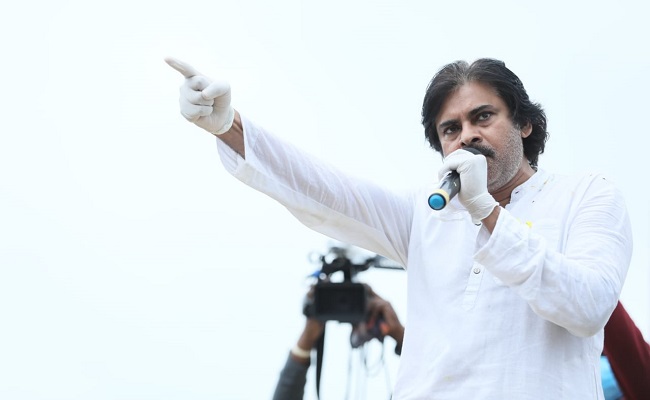 By declaring that he was ready for a respectable alliance with the Telugu Desam Party in the next assembly elections in Andhra Pradesh, Jana Sena Party president and power star Pawan Kalyan has virtually thrown the ball into the court of TDP president N Chandrababu Naidu.
Though he was not very explicit in his statement about what he meant by respectable alliance, it appears Pawan wants Naidu to spell out how many seats the TDP would like to allot to the Jana Sena Party as part of the seat sharing agreement.
He event went to the extent of saying that he is prepared to go it alone in the elections, if the agreement was not in respectable terms.
That Jana Sena will not compromise on asking for good number of seats in the alliance was evident from Pawan's statement that he would like either Jana Sena government or a coalition government to be in place after the next elections.
What does it mean? He doesn't expect the TDP to win the number of seats required for absolute majority in the assembly elections and that Naidu has to depend on Jana Sena Party to form the government.
It would mean, the TDP has to sacrifice at least 40-50 percent of seats to Jana Sena Party as part of seat sharing. Thus, he threw the ball into the court of Naidu to decide how many seats the TDP would be willing to share with the Jana Sena.
It is here Pawan seems to have underestimated Naidu. A shrewd politician that he is, the TDP chief would always look for securing absolute majority so that he would not have to depend on Pawan Kalyan to dictate terms to him.
At the same time, Pawan Kalyan knows that if Naidu is allowed to get absolute majority mark, the latter would dump him, as the TDP is known for use and throw tactics.
Both Naidu and Pawan know pretty well that if they go independently, they cannot defeat YSR Congress party led by Jagan Mohan Reddy.
So, it would be interesting to see how far the TDP and Jana Sena chiefs would go with their give and take approach.